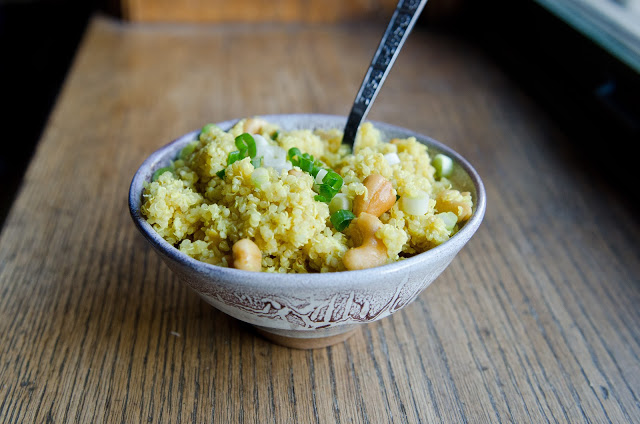 Happy Vegan Tuesday! Today, we are taking a break from Christmas cookies and going with a much lighter + healthy, but delicious curried mango quinoa salad. Lately, I've been making a point of having at least one salad a day. Normally, I have a spinach with some fresh fruit and some nuts. But every so often, I need a much more filling, unique salad that can double as a lunch. And this quinoa salad definitely fits the bill. The flavour develops over an hour or so. Therefore, I highly recommend letting the salad sit at least 45 minutes to an hour before serving. 
And I better run! I'm catching a plane in the next hour to head west for a conference for work. I'll be back over the weekend with some new holiday food ideas. Have a fantastic week! xo
Ingredients
1 cup of uncooked quinoa, rinsed in cold water and well drained

2 tablespoons of canola oil

1 tablespoon of cider vinegar

2 tablespoons of mango chutney

1 teaspoon of curry powder

1/2 teaspoon of salt

1/4 teaspoon of dry mustard powder

black pepper to taste

1 cup of fresh chopped mango

1/2 cup of chopped unpeeled, seedless cucumber

1/2 to 3/4 cup of unsalted cashews

2 scallions, white and green parts, thinly sliced

sprinkle of unsweetened coconut flakes (optional)
Method
1. Bring a large saucepan filled with salted water and the rinsed quinoa to a boil over high heat. Once boiling, reduce to a simmer, cover and cook quinoa for 12 minutes. Remove from heat. Allow quinoa to cool.
2. Meanwhile, in a small bowl, whisk together the oil, vinegar, mango chutney, curry powder, salt, mustard and pepper until well blended.
3. Mix the cooled, cooked quinoa with the chopped mango, cucumber and fresh scallions. Toss in the cashews. Pour dressing onto salad and mix well. 
Allow the salad to sit for at least 45 minutes to develop flavours. Serve the salad chilled or at room temperature.
Yield: 4 servings
Source: adapted from The Tropical Vegan Kitchen by Donna Klein