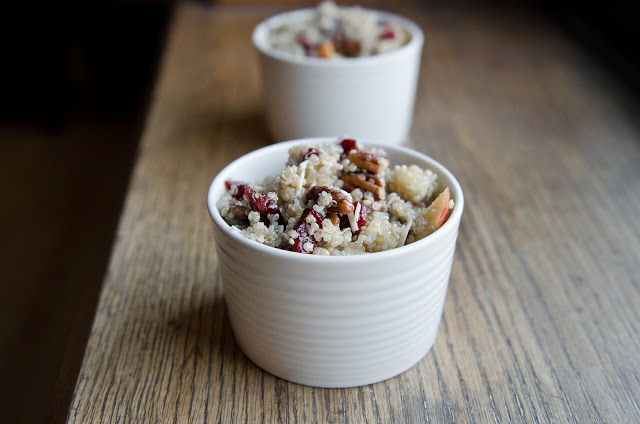 Hello and Happy World Vegetarian Day! And Happy October 1st! :) I am so very happy that we are now into the month of October. It's my very favourite month. October feels like the very heart of fall to me. October is full of wonderful things such as Canadian Thanksgiving, some of my best friends' birthdays and the always fun Halloween festivities! 
October is searching for the perfect pumpkin. It's the happiness of a bonfire with good friends. It's the smell of fallen leaves. October is the togetherness of family. It's the bright colours of the trees and the chilly evenings. It's the warmth of cozy sweaters that embrace you like a familiar hug. It's choosing the perfect Halloween costume. It's the aroma of apple pie. It's overdosing on mini Halloween chocolate bars. It's the excitement of the first snow fall. It's getting lost in a corn maze and the puckering taste of cranberry cider. It's piping hot cups of hot chocolate and pumpkin lattées. It's the thrill of raking up all of the leaves and taking a running jump into them! It's the yumminess of caramel apples. It's the feel of soft woolen mittens. October is also Vegetarian Awareness month! Ahhh….yes, October is pretty much the best thing ever :) October is also the month Jesse and I will be going on a week long trip to NYC. I cannot wait! :)
As mentioned, October is the month of Canadian Thanksgiving. In fact, it's a week today! And it's one of my very favourite holidays. I love all of the delicious food and spending time with my family and good friends. It's a nice holiday, as there is no pressure to buy gifts or go overboard with decorating. (I leave all of that for Christmas! *hehe*) Thanksgiving seems to be most focused around food – and I LOVE food. And since I love food, I'm planning on posting a new recipe each day leading up to Canadian Thanksgiving (October 8, 2012). I'm going to share with you, recipes that I will be serving at our upcoming family Thanksgiving dinner – vegetarian style!
First up, a delicious and unique quinoa salad inspired by fall flavours. It's full of sweet, crispy chunks of apple and tart dried cranberries. There's buttery, toasted pecans and fluffy quinoa. And it's all dressed up with a savoury/sweet cinnamon maple viniagrette. I recently made this for my dad who had yet to try quinoa. He was very skeptical, but in the end, he adored the flavours of this salad. This salad makes for an excellent starter salad for a fall family get-together. Or it can double as one yummy salad to bring for lunches.
Hope you are all having a happy Monday. Did you do anything to celebrate International Vegetarian Day?    
Ingredients
1 cup of uncooked quinoa, well rinsed

1 and 1/2 cups of water

1 large crisp apple, chopped into small pieces

1 cup of pecans pieces, toasted

1/2 cup of dried cranberries

1/2 cup of grated parmesan cheese (optional)

3 tablespoons of apple cider vinegar

3 tablespoons of olive oil or canola oil

1 to 2 teaspoons of pure maple syrup (to your taste)

1 heaping tablespoon of dijon mustard

1/4 teaspoon of ground cinnamon

salt and pepper to taste
Method
1. In a medium saucepan, bring the rinsed quinoa and water to a boil. Once boiling, reduce heat to low, cover and cook for 10 minutes. Fluff the quinoa with a fork and remove from heat. 
Note: 
You want the quinoa to maintain some of its texture and bite, so don't over cook it.
2. Place the cooked quinoa in a strainer and run cold water over it until well chilled. Drain well. Set aside.
2. Whisk together the apple cider vinegar, olive oil, pure maple syrup, dijon mustard, ground cinnamon, salt and pepper.
3. Combine the cooled quinoa, diced apple, toasted pecans pieces, cranberries  and parmesan cheese in a serving dish. Add the dressing and toss well. Note: Allow the salad to sit for at least 30 minutes at room temperature, so that all the flavours have a chance to develop.
Serves: 6 to 8 side salads
Source: recipe by Courtney Jones; dressing adapted from Vegetarian Times Magazine Oct.2012