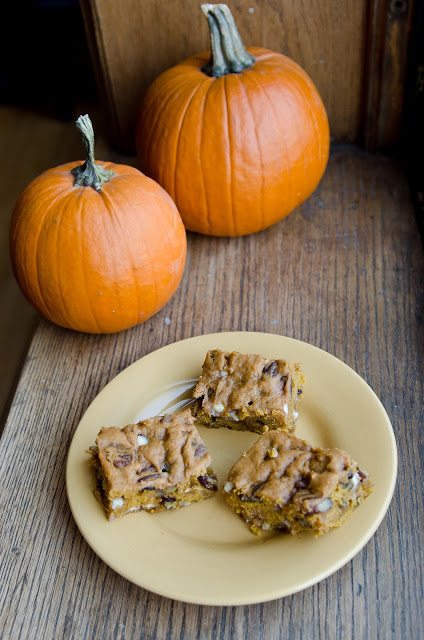 Just when you thought I had forgotten about Vegan Tuesdays this week, I surprise you all with this awesome recipe for vegan pumpkin pecan white chocolate brownies :) I'm sorry for the delay in today's post, but I forgot to schedule it for this morning. Then I did not get home until a few minutes ago. Work was very busy today, but I was rewarded with an awesome dinner date with one of my very best friends. We ended up chatting and catching up for three hours. Such a nice time! 
I've been so excited to share these delicious fall-inspired pumpkin blondies with you. So excited in fact, that I could not wait any longer to share it! This week I'm presenting recipes for Canadian Thanksgiving. Yesterday, I posted Apple Cranberry Pecan Quinoa Salad to start off Thanksgiving Dinner. Generally speaking, I should not follow a salad post with a dessert recipe! But I just had to share this recipe today. It's too yummy not to share before all of the Thanksgiving main dishes and entrées :)
 I am a sucker for dark, rich, bittersweet brownies – but I also have become smitten with blondies. This past summer, I made vegan Strawberry Chocolate Blondies for my guest post on Fork and Beans and I fell in love with the brownie's lighter counterpart. Blondies are the best of brownies (all the moistness and wonderful gooeyness), but can have some really unique flavour combinations. These pumpkin pecan white chocolate blondies are good. So very good! :) I loved the moistness from the pumpkin and all of the wonderful spice from the cinnamon, nutmeg and cloves. The toasted pecans add crunch and the white chocolate melts into the blondie adding the perfect amount of gooey goodness! You will not be disappointed.
Wishing you all a wonderful Vegan Tuesday. :) Please check out The Fig Tree's Vegan Tuesday page for more Vegan Tuesday posts. xo

Ingredients
2 and 1/3 cups of all-purpose flour

1 tablespoon of pumpkin pie spice

1 teaspoon of ground cinnamon

1 teaspoon of baking soda

3/4 teaspoon of kosher salt

1 cup of Earth Balance butter, room temperature

3/4 cup of organic vegan white sugar

3/4 cup of brown sugar

2 teaspoons of pure vanilla extract

1-15 ounce can of pure pumpkin purée

2 cups of vegan white chocolate chips

3/4 cup of roughly chopped pecans

Method

1. Preheat oven to 350'F. Line the bottom and sides of a 9 x 13-inch baking pan with parchment paper – leaving an overhang on all sides. Grease with non-stick cooking spray.

2. In a medium bowl, whisk together flour, pumpkin pie spice, cinnamon, baking soda and salt. Set aside.

3. In the bowl of a stand mixer fitted with a paddle attachment, cream the butter and sugars on medium-high speed until smooth. Beat in the flax egg and vanilla until combined. Beat in the pumpkin purée. Note: don't worry if the mixture looks a bit curdled. It's normal.

4. Reduce the speed to low and mix in the dry ingredients until just combined. Fold in the white chocolate chips and pecans.

5. Spread the batter evenly in a prepared pan. Bake until the edges begin to pul away from the sides of the pan and a toothpick inserted in the centre comes out with just a few moist crumbs attached (about 35 to 40 minutes). Cool completely in the pan.

Store in an airtight container for up to three days.

Yield: about 18 blondies

Source: adapted from My Baking Addiction (originally from Martha Stewart)