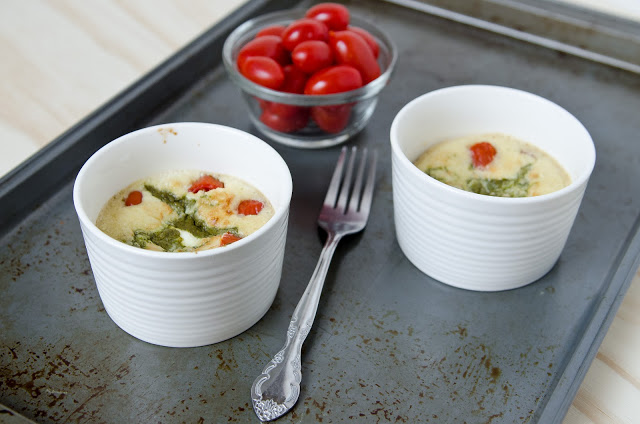 Hello, and happy Thursday! Good news! It's only one more sleep until Friday! :) Do you have any exciting plans for the weekend? I am attending a friend's birthday on Friday. Saturday, we are hitting up the local farmer's market. And Sunday, I'm going to see my football team play. Now….last weekend…my team lost ZERO to 52. Seriously….zero to 52. *shudders* Hopefully, we can make a huge come-back this week. Orrrrr…to be more realistic….get a least ONE point :) It's all I ask! *hehe*
Today, I'd like to share a recipe that I was quite skeptical to make. This recipe popped up in my inbox two weeks ago through a
Canadian Living
weekly newsletter. At first it really caught my attention. Zucchini, cherry tomatoes, basil and goat cheese are a few of my favourite things! *hums along to Sound of Music* Such delicious summer flavours in one yummy sounding recipe.
However, the number of eggs really turned me off. I always skip over recipes that require a fair amount of eggs. Ever since I was a little girl, I've hated eggs. And anything with the texture of eggs. It's quite a weird aversion. Over the years, I've avoided many quiches and custards and anything that could possibly be – in my words – "eggy". Something about the texture just irks me. Omelettes and frittatas are my number one enemies. As a kid, I'd pick out the scrambled egg from fried rice when we got Chinese take-away. So time consuming!!! *hehe* Okay…so I'm being quite dramatic. But you get the point – I don't enjoy eggs. But something about this recipe – a savoury clafoutis – intrigued me and after a week of debating, I picked up all of the ingredients and set aside sometime to make these pretty little pots filled with tastes of summer.
And…they were a huge success! They were light and fluffy, and not too "eggy". The goat cheese melted in the middle of the clafoutis and made them oh-so creamy and rich. The cherry tomatoes roasted nicely and added a delicious sweetness to the dish. The acidity cut the richness of the egg and goat cheese. And the maple syrup was a nice touch. Very subtle. And you can never go wrong with fresh basil. I highly recommend these, as I was very impressed with the flavour and the texture. Although, don't count me as an egg lover just yet! *hehe*
We ate these with a nice side salad for dinner. One of the clafoutis and a side salad made for a really yummy, filling dinner. According to Canadian Living, each clafoutis is about 300 calories – which is not too bad in my opinion. I think these would also be really nice to serve at a special brunch or as an appetizer to a fancier dinner party.
Do you have any particular food that you just cannot stand?

Ingredients
2 teaspoons of unsalted butter, softened
1 cup of grated zucchini
3 tablespoons of chopped fresh basil
3 eggs
1/2 cup of whipping cream (35%)
3 tablespoons of all-purpose flour
1 tablespoon of pure maple syrup
1/4 teaspoon of salt
1 pinch of nutmeg
1 pkg (140 g) soft goat cheese, crumbled
12 cherry tomatoes, halved

Method
1. Brush four 1-cup (250 ml) ramekins with butter; set aside. Pre-heat oven to 325'F.
2. Wrap shredded zucchini in a clean tea towel; twist and squeeze to release excess liquid. Transfer to a bowl and toss with the fresh chopped basil. Set aside.
3. In a separate bowl, whisk together the eggs, whipping cream, flour, maple syrup, salt and nutmeg.
4. Divide goat cheese crumbles evenly among the ramekins. Top each with one-quarter of the zucchini mixture and one-quarter of the egg mixture. Top each with 6 cherry tomato halves.
5. Arrange the four ramekins on a baking sheet. Bake the clafoutis in oven until puffed and eggs are set (about 18 to 20 minutes). Broil until the tops are bubbly and golden (another 2 minutes). Enjoy :)
Source: Canadian Living Magazine: August 2012