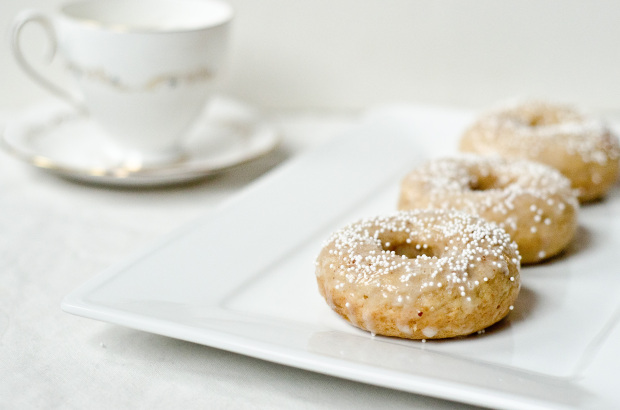 Happy Holidays everyone! I can't believe Christmas is coming up so quickly! Thankfully I finished Christmas shopping yesterday. Now we just need to get a tree and decorate it! This Christmas season is quite special for me, as it's the my first Christmas as a vegan. To be honest, I was a bit worried that I would not be able to bake as I usually do during the holiday season, as I'm still learning how to bake without dairy and eggs. But, it's been quite easy! Too easy actually, as I've baked more than normal this year. I'm starting to rival Santa in the "belly like a bowlful of jelly" department! *haha* Last weekend, my mom, sister and I made spicy & sweet gingerbread men, buttery shortbread, Mexican Wedding Cakes and the ever-so-Canadian butter tart square. Actually, I'll be sharing my recipe for Chocolate Pecan Butter Tart Squares on Keepin' It Kind tomorrow for Kristy's annual cookie party swap!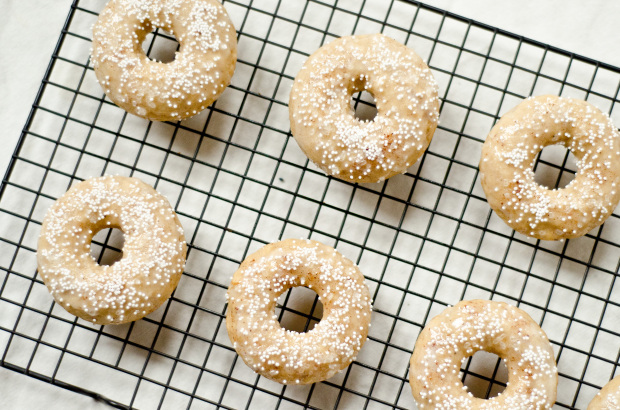 This past week, I decided to break out my donut pans to test a recipe for Christmas Day brunch. My mom usually makes an amazing spread for Christmas brunch and this year I want to contribute something to satisfy everyone's sweet tooth! These donuts definitely fit the bill. The baked cake donut is flavoured with warm nutmeg and cinnamon and infused with one of the most celebrated flavours of the holiday season – eggnog! The donuts are baked until slightly golden and then glazed with icing sugar/confectioner's sugar whipped with more delicious eggnog! Delicious!
What is your favourite treat to make for Christmas breakfast/brunch?
Baked Vegan Eggnog Donuts
A delicious baked cake donut infused with one of the most celebrated flavours of the holiday season - eggnog! The cake donut is made with the warm flavours of ground cinnamon and nutmeg and topped with a delicious eggnog glaze. The perfect treat for Christmas morning!
Ingredients
1 and 3/4 cup of unbleached, all-purpose flour
2 teaspoons of baking powder
1/4 teaspoon of salt
1/4 teaspoon of ground nutmeg
1/4 teaspoon of ground cinnamon
2 tablespoons of canola oil (non-GMO is best)
1/2 cup of light brown sugar
1 teaspoon of pure vanilla extract
1 teaspoon of rum extract
1 cup of vegan eggnog such as So Nice Noël Nog or Almond Fresh Noël Nog (room temperature)
1/2 cup of icing sugar/confectioner's sugar
2 tablespoons of vegan eggnog
Sprinkles
Method
Preheat oven to 350'F. Lightly oil two donut pans and set aside.
In a large mixing bowl, combine the all-purpose flour, baking powder, salt, ground nutmeg and ground cinnamon.
In a small mixing bowl, combine the canola oil, brown sugar, pure vanilla extract, rum extract and room-temperature eggnog.
Create a well in the centre of the dry ingredients and pour in the wet. Mix until just combined.
Line a large drinking glass with a plastic bag or piping bag with a 1/2 inch of one corner snipped off. Scoop the dough into the plastic bag/piping bag until 3/4 full. Twist the end, so that the batter does not come out the opposite end when squeezed. Pipe filling into the donut pan cavities about 2/3 of the way. Make sure to leave the donut holes clear.
Bake donuts for 14 minutes, or until slightly golden and a toothpick inserted in the middle comes out with a dry crumb. Transfer to a wire rack to cool completely.
Prepare the glaze by whisking together the confectioner's sugar and 2 tablespoons of eggnog. Dip cooled donuts into the glaze and finish with sprinkles. Place donuts in the fridge for 10 minutes to allow the glaze to harden.
Store donuts in an airtight container for up to 3 days.
Source: adapted from Baked Chocolate Doughnuts by Ashlae Warner