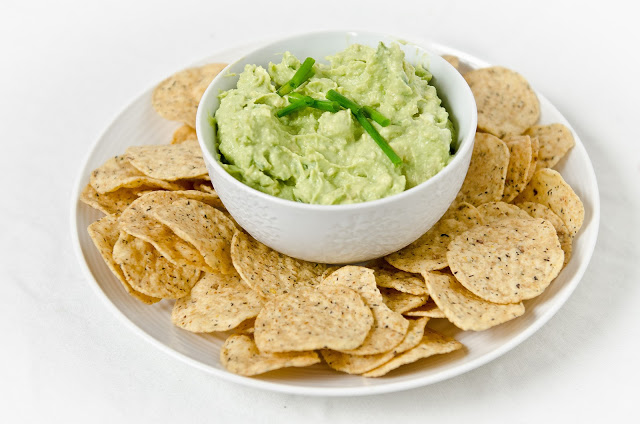 Before I met Jesse about 5 years ago, I had never had an avocado nor ever ventured trying guacamole. Guacamole just seemed like something I would despise. Do you have any foods that you just KNOW you'll despise? *hah*
Turns out I was very, very wrong. One evening, Jesse and I went to share a plate of nachos and glasses of sangria on the patio of a local restaurant called Carlos & Murphy's. Jesse ordered a side of guacamole for himself. He sat there enjoying the bright green dip when curiosity finally overtook me and I gave in. I dipped a chip in the guacamole… And it was amazing! How did I go so long without knowing the deliciousness of avocado!? 
Now, I'm an avocado convert and am making up for lost time. I spend a good portion of our grocery budget on avocados each week. I adore avocado slices with lime juice and salt as a snack after work a few times per week. I've added avocado to salads and soups. And I've finally perfected homemade guacamole.
 Even though I've perfected a guacamole that Jesse and I love, I'm always still looking for other ways to dress up the delicious dip. I recently stumbled on this recipe for Green Goddess Guacamole and I was immediately smitten. It's a really nice spin on a regular, simple guacamole. The fresh herbs add such fresh flavour to the dip. The lime brightens up the rich avocado and the shallots add a nice gentle bite. The small amount of sour cream bring this dip to the next level. So creamy and so utterly delicious!
During my most recent book club meeting, I served the guacamole as a dip with tortilla chips. However, as the dip was so delicious, it also doubled as a condiment for burgers. I have definitely found a new way to whip up guacamole and had to share it with you. If you love guacamole, do yourself a favour and make this ASAP. You won't be disappointed! :) I promise!
ps. double the recipe….you'll thank me later. *hehe*
Here are a few of my favourite ways to use avocado:
Ingredients
2 avocados, halved, pitted and diced

2 tablespoons of finely chopped flat-leaf parsley

2 tablespoons of finely chopped basil

2 tablespoons of finely chopped chives

1 tablespoon of finely chopped tarragon (optional)

2 tablespoons of sour cream (or vegan sour cream)

juice of half a medium lime

1 small shallot, finely chopped

1 and 1/4 teaspoon of kosher salt

pepper to taste

tortilla chips to serve
Method
1. In a medium bowl, mash the avocado with a potato masher. Allow the mixture to remain somewhat chunky. 
2. Add the parsley, basil, chives, tarragon, sour cream, lime juice, shallot and salt. Mix well.
3. Serve dip with tortilla chips, fresh raw veggies or as a condiment on veggie burgers, sandwiches or tacos/burritos.
Source: Tasting Table Test Kitchen