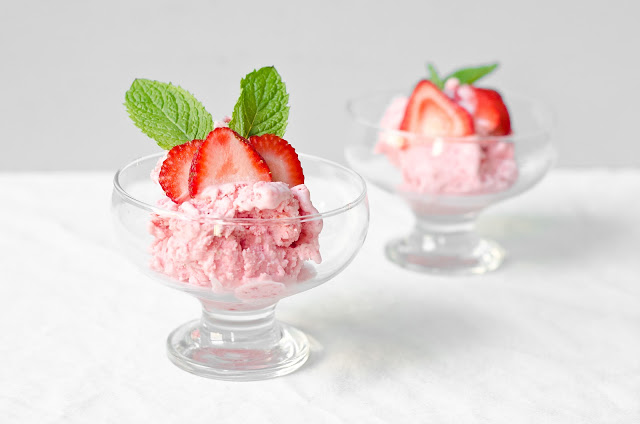 Happy July 4th to my wonderful American friends! Hope you all had a great day off celebrating with your friends and family. What did you do to celebrate? And more importantly, what kind of food and drinks did you have for your July 4th festivities? 
Last weekend, we celebrated Canada Day here and one of the items we enjoyed during our Canada Day festivities was this awesome homemade strawberry ice cream. It is the most flavourful, delicious ice cream I've ever had. The fresh, local strawberries made this ice cream really stand out. I know I've said it before, but homemade is always best – but that's especially the case when it comes to homemade ice cream. There is seriously nothing more creamy and flavourful than the homemade variety. 
Making ice cream at home is a lot of fun. I highly recommend buying an ice cream maker to use this summer. I use one from Cuisinart and I find it works great! You can also buy an ice cream maker attachment for your Kitchen Aid Mixer. By making ice cream at home, you can really play around with flavours and toppings. You can also be really creative with the base for the ice cream and make a variety of dairy free versions. I'm hoping to post a number of dairy-free "ice cream" recipes over the upcoming summer. Coconut milk ice cream is my number one priority! I recently discovered the coconut "ice creams" from So Delicious (Diary Free) and I'm smitten. The gluten free cookie dough coconut ice cream is amazing!!! Yum! 
If you are looking for some more homemade ice cream recipes, here is a list of great ice cream recipe books. I highly recommend all of them: 
What is your favourite flavour of ice cream?
Ingredients
1 lb. of fresh strawberries, rinsed, hulled and sliced

3/4 cup of granulated sugar

1 cup of sour cream (at least 7% M.F)

1 cup of cream (35% M.F.); chilled

1/2 teaspoon of fresh lemon juice
Method
1. In a medium bowl, combine the strawberries and sugar. Stir until the sugar begins to dissolve. Allow the strawberries to sit at room temperature, covered,  for 1 hour. Be sure to mix the strawberries occasionally.
2. Pour the strawberry mixture into a blender. Add the sour cream, the chilled cream and the lemon juice. Blend until the mixture is smooth, but still has small chunks of strawberry. Chill mixture in the fridge for 1 hour.
3. Freeze mixture in an ice cream maker according to the manufacturer's instructions.
Note: Homemade ice cream tends to get a bit harder in the freezer than the store-bought variety. Allow the ice cream to sit on the counter for about 10 minutes before scooping and serving to achieve the best consistency.
Yield: about 1 quart
Source: The Perfect Scoop by David Lebovitz