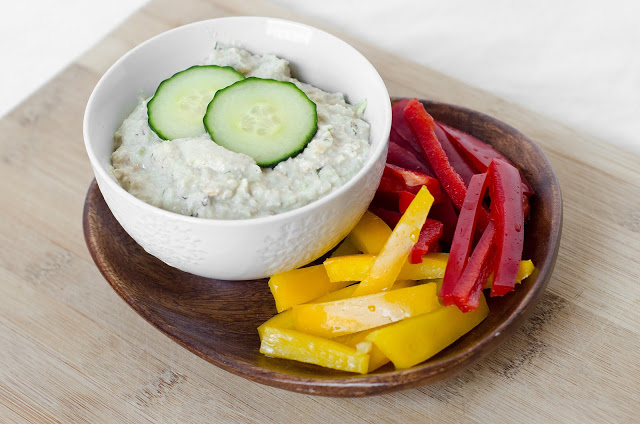 Tonight, I am heading out to a BBQ to celebrate my sister's fiancé's birthday. (Happy Birthday Jonny!) One of the guests that will also be attending has recently discovered she is lactose intolerant and has asked me to help her find new ways to eat favourite dairy-filled foods. I thought a vegan tzatziki would be a great place to start. It's a delicious appetizer to bring to a BBQ when served with fresh cut veggies. It's also so incredibly flavourful that even dairy lovers will enjoy it.
The tzatziki is made from rich cashews pureed with grated cucumber, garlic, olive oil, lemon juice and oregano. All but the cashews are classic ingredients in a perfect tzatziki. The cashews replace the yogurt in this dip, but no creaminess is lost due to the richness of the cashews themselves. The lemon creates the familiar tang found in the yogurt. I noticed that the cashews add a bit of sweetness not found normally in tzatziki, but it was a welcomed change. The fresh dill and fresh mint really enhance the dip, so I highly recommend including both when making this appetizer. Please note, this dip won't taste exactly like the yogurt based tzatziki that you may have already tried. But it's equally delicious and extremely addictive!
Enjoy this dip with fresh veggies, pita chips or even with lentil crisps. It's also fantastic as a sandwich spread.
1 and 2/3 cup of peeled and grated seedless cucumber (loosely packed)

1 cup of raw cashews (unsalted)

2 cloves of garlic with skin removed

1 tablespoons of olive oil

1 teaspoon of dried oregano

1 tablespoon of fresh chopped mint (optional)

1 tablespoon of fresh chopped dill (optional)

1/2 teaspoon of salt

3 tablespoons of fresh lemon juice

pinch of ground pepper
Method
1. The night before making this dip, place the cashews in a container with a lid. Pour water over the cashews just until they are immersed. Cover the cashews and let them soak overnight in the fridge.
2. Squeeze handfuls of grated cucumber over a medium bowl to remove as much liquid as possible. Set aside the cucumber juice and place the squeezed cucumber in a bowl.
3. Remove cashews from fridge and drain. In a food processor (or blender), combine the soaked cashews, garlic cloves, olive oil, lemon juice, half of the grated cucumber, oregano, salt and pepper. Blend until creamy, scraping down the sides of the food processor as required. Add 1 to 3 tablespoons of the reserved cucumber liquid and blend again. Note: you want the consistency to resemble a creamy hummus.
4. Scrape mixture out of the food pressor bowl into a nice serving bowl. Stir in the remaining grated cucumber and chopped dill and mint if using. Cover and chill until ready to use.
To Garnish: drizzle with olive oil and garnish with some kalamata olives.
To Serve: serve with chopped fresh veggies, pita chips and/or lentil chips
Source: based on a recipe from Veganomicon by Isa Chandra Moskowitz and Terry Hope Romero