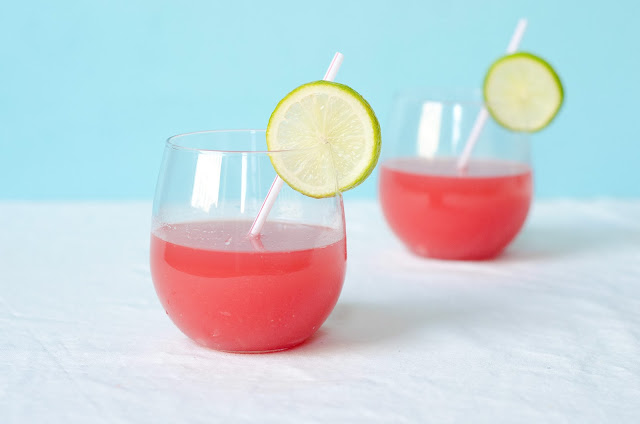 Guess what! I have another summer drink recipe for you today. This one, however, is non-alcoholic and can be enjoyed by adults + kids alike during the summer. That being said, you are welcome to add some rum or even some tequila if you would like to step it up a notch. I won't tell anyone. :)
This past weekend, I attended my dear friend Stephanie's bachelorette party. After some Zumba and a nice dinner out on a patio, all us girls congregated outside on another patio for a fantastic ice cream party. Yum! We had three flavours of ice cream and then every single topping you could imagine! Delicious! I brought along some homemade strawberry ice cream. Recipe to come later this week!
It was extremely hot this weekend on the prairies, so I also decided to bring a delicious, refreshing drink for all the ladies to have in order to cool down a little. This watermelon mojito punch was perfect. Definitely refreshing, without being too sweet – it went quickly! 
I'm planning on making another pitcher of watermelon mojito punch for my upcoming book club BBQ potluck. It's the perfect punch to share with friends and family during all of this hot, humid weather.
1 medium sized seedless watermelon; peeled and cut into cubes

1/4 cup of fresh lime juice

12 medium to large fresh mint leaves 

1L of lemon-lime soda; chilled

2 limes, sliced for garnish

1/2 cup to 1 cup of white rum (optional)
Method
1. Purée the watermelon in a blender. Blend until smooth.
2. Strain the blended watermelon through a fine-mesh sieve to remove any pulp. Set the watermelon juice aside.
3. In a 2L pitcher, muddle the mint leaves using the bottom of a wooden spoon. Note: You do not want to break up the mint leaves. You just want to bruise them slightly to release more of the mint flavour. 
4. Add the lime juice followed by the watermelon juice (just until half of the 2L pitcher is full).
5. Add the fresh lime slices.
6. Top with 1 L of chilled lemon-lime soda. Refrigerate the punch for an hour before serving to allow all of the flavours to combine. Serve over ice for a truly refreshing summer treat.
Note: You could also use sparkling water instead of lemon-lime soda. You may just need to sweetened the beverage with 2 tablespoons of simple syrup.
Source: inspiration from Cookin' Canuck and Barefoot Contessa