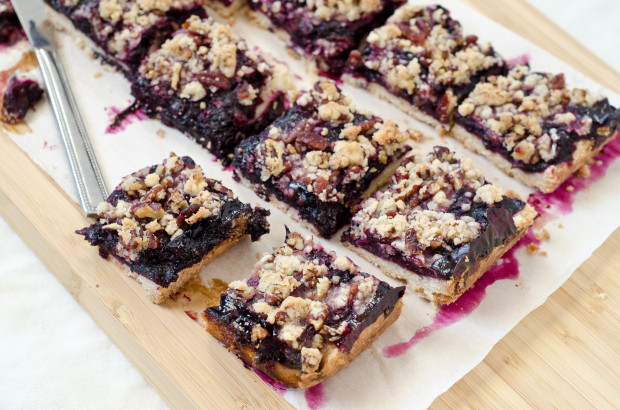 After seven weeks away, it feels GREAT to be back in the kitchen. I know a lot of people cannot wait to travel, so that they get a break from cooking. But for me…it was the complete opposite! As much as I had an amazing time travelling through Europe, I really, really missed my kitchen and being able to whip up a dish or a pan of something whenever I felt like it. We've been home for about a week now and I've been in the kitchen pretty much anytime I've had some spare time. It's been great to get my hands dirty again! I'm not too sure that my husband agrees. The kitchen has been a bit of a mess thanks to me! Oopsie! Ah well…I pay him back in treats such as these blueberry lemon shortbread bars, so don't feel too sorry for him :)
Throughout our trip, I kept a notepad with me, so I could write down all the recipe ideas that I came up with during our travels. Many of the recipes were inspired by the places we visited. It was wonderful getting to sample so many different authentic foods from all of the different countries. I've only had a chance to try out a few of my ideas, but I look forward to sharing them all with you very soon.
In the meantime…here's a recipe for the tastiest of summer treats! We are nearing the end of blueberry season here in Canada, so I wanted to bake something with blueberries before the fresh, local berries vanished into the  dark and dreary depths of winter. Yes…I'm being dramatic. These bars are sweet yet tart and oh-so buttery! They are easy to put together and make the perfect light summer dessert. Heat them up and top with some coconut ice cream or coconut whipped cream for an extra special treat. Scrumptious!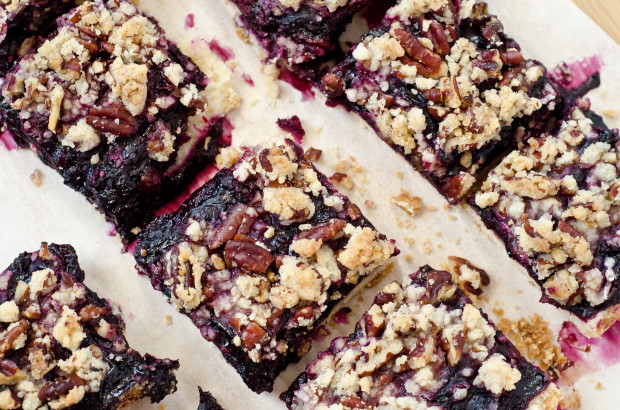 Vegan Blueberry Lemon Shortbread Bars
These blueberry lemon shortbread squares are perfect for a late summer treat. They are sweet, tart and oh-so buttery. A great way to use up the last of the fresh blueberries.
Ingredients
3/4 cup of vegan butter such as Earth Balance, softened
1/2 cup of granulated sugar (for the crust)
1 tablespoon of freshly grated lemon zest
1/4 teaspoon of salt
2 cups of unbleached, all-purpose flour
1/2 cup of granulated sugar (for the filling)
3 tablespoons of cornstarch or arrowroot powder
2-3 tablespoons of fresh lemon juice (3 for a more tart square)
4 cups of fresh blueberries, well-rinsed
1 cup of chopped pecans
1 tablespoon of vegan butter
Method
Preheat oven to 375'F. Line an 8-inch square baking pan with parchment paper.
In a large mixing bowl, cream together the butter and the sugar until light and fluffy. Add salt and lemon zest. Mix to combine.
Slowly add the flour in two separate additions and mix until the mixture resembles coarse crumbs. Set aside one cup of the mixture. Press the remaining dough into the bottom of the prepared baking pan.
For the blueberry filling, combine the sugar, cornstarch and lemon juice in a medium bowl. Stir in blueberries and coat evenly with the sugar mixture. With a wooden spoon, gently mash the blueberries until some liquid is released. Pour over the crust.
For the pecan topping, combine the reserved crust mixture, chopped pecans and butter. Sprinkle over the blueberry lemon filling.
Bake at 375'F for about an hour, or until the blueberry lemon mixture is bubbly and the topping is golden brown. Cool completely before cutting into squares.
Source: adapted from Canadian Living Magazine