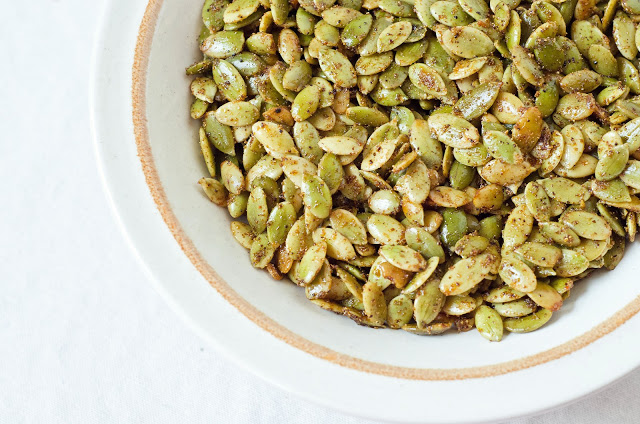 I try so very hard to eat non-processed, healthy, nutrient dense food. But one daily food craving in particular is making this healthy living business difficult for me! The problem – I love plain tortilla chips. I love them with salsa, hummus, guacamole or just with a squeeze of fresh lime juice. Yummmm! It's become quite the vice lately though. I always crave them right after work + tend to binge a bit on them when I get home. I suppose there are worse things to crave, but I also know tortilla chips can be quite high in calories + fat. 
I normally prefer to only eat homemade snacks if possible – homemade snacks that are more nutrient dense than a few handfuls of tortilla chips. Fresh fruit + veggies are always great for snacking, but sometime you just need something salty/savoury. So, in order to overcome this tortilla chip "addiction", I've decided to start testing out some healthier, salty/savoury snacks to have after work. 
First up, these fantastic, yummy Chile Spiced Pumpkin Seeds. The seeds are toasted and tossed with some fantastic, earthy spices. A light sprinkling of salt finishes them off and makes them perfect for curbing a salty-snack craving. The chile powder I used has a mild heat that is quite addictive! Since the spice mix is quite rich, however, there is no need to have more than a tablespoon or two.
I think these Chile Spiced Pumpkin Seeds would be fantastic sprinkled on top a Latin-inspired salad. They would be a great addition to this lime cilantro black bean salad by my friend Destini at The Healthy Wife. Or on top of a tortilla soup or enchiladas. I think I'll add them to my black bean burgers the next time I make them! They'll add a fantastic spicy crunch to the burgers.
Do you have any food you consistently crave? 
Ingredients
1 tablespoon of extra-virgin olive oil

1/2 teaspoon of ground cumin

1/2 teaspoon of chile powder

1/2 teaspoon of garlic powder

1 and 1/2 cup of unsalted shelled pumpkin seeds

salt to taste
Method
1. Heat oil in a heavy-bottomed skillet over medium heat. Stir in the cumin, chile powder and garlic. Heat through for about 1 minute, stirring to combine.
2. Add pumpkin seeds and salt. Stir to coat the seeds with the spices. Stir seeds constantly until the seeds are a nice golden brown (about 7 minutes). 
3. To retain their crunch, transfer seeds to a baking sheet lined with parchment paper until cooled. Once cooled, you can serve the pumpkin seeds or store them in a closed-jar at room temperature. 
Source: Veggie Life Magazine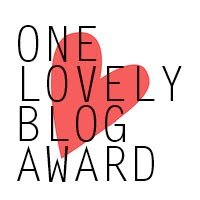 Also, I would like to thank my friend Willow from Will Cook For Friends for the "One Lovely Blog Award" nomination! I was thrilled to receive the nomination from such a talented blogger! Willow is one awesome lady. I adore her writing style and am in awe of her fantastic food styling + photography skills. Please be sure to check out her wonderful blog! 
Upon receiving a nomination, one is supposed to do two things: (1) write up 5 things about oneself that other bloggers may not know or would find interesting and (2) nominate other inspiring bloggers for the  "One Lovely Blog Award".
Things About Me 
1. I love to watch Criminal Minds. But then I can never sleep afterward! I'm a huge wuss sometimes.
2. I love, love, love afternoon naps. I don't get to nap often, but when I do, it's blissful and so relaxing.
3. Every single summer, I watch Big Brother. It's my guilty pleasure. My winter guilty pleasure is The Vampire Diaries. My sister and I always watch it together.
4. Cooked greens gross me out. I'm trying so hard to like them! I love raw greens in salads and such. But I cannot handle cooked spinach in particular. Popeye would be disappointed! *hehe*
5. Cherries are my very favourite fruit. Love them! Looking forward to cherry season. I'll eat so many that I'll give myself a stomach ache! *hah*
And I nominate the following bloggers for the "One Lovely Blog" award:
Please check out these inspiring, creative bloggers + send them some love :)