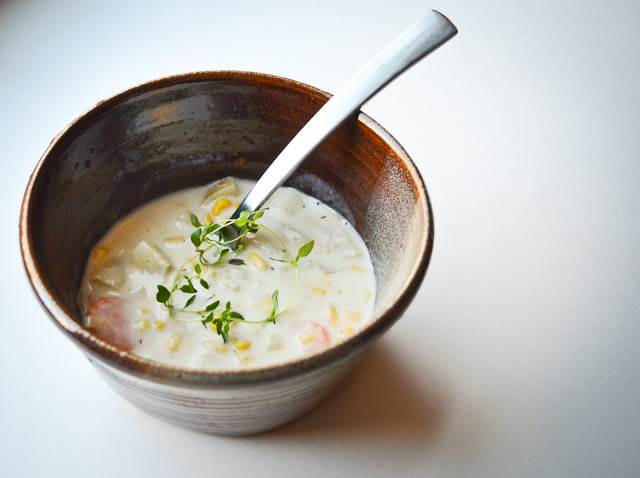 This vegetable chowder is an absolute favourite around our home. Don't be turned off by the amount of chopping you have to do for this recipe. The chowder is worth the effort. It's very hearty and each bowl has at least two servings of vegetables. And we all need more veggies in our diet! Best of all, this recipe makes quite a bit of chowder (yay! leftovers!). I like to make this chowder when I know we have a busy week ahead. The soup lasts a few days in the fridge and is great to take for lunches. 
This may look like a meal you'd serve during the winter months. However, with all of the fresh local produce becoming available as of late, it seems like spring is the perfect time to experiment in making this chowder. You could use fresh corn right off the cob, for example. Or maybe you could add some fresh green beans from your garden. Or, you could even add some fresh chopped spinach if that's your thing. Options are endless. Enjoy! :)
Ingredients
1 cup of onion, diced or 1/2 cup of leek; diced

1 cup of celery, diced

1 cup of carrot; diced

1 cup of zucchini, diced

1 cup of cauliflower florets

1/2 cup of red pepper, diced

1/2 cup of yellow pepper, diced

1 tablespoon of vegetable or canola oil

2 tablespoons of unsalted butter

3 tablespoons of all-purpose flour

2 cups of vegetable stock

2 cups of skim milk

1 cup of fresh or frozen corn kernels

1 cup of Yukon Gold potato; peeled and diced

2 teaspoons fresh thyme; chopped

1 teaspoon of dried oregano

1 bay leaf

salt and pepper
Method
1. In a medium saucepan, heat the oil over medium heat and then add the carrots, onion (or leeks) and celery and sauté for about 5 minutes (or until the onions are translucent). Add the zucchini, cauliflower, and pepper and sauté for another 3 minutes. Set the vegetables aside in a bowl.
2. Melt the 2 tablespoons of butter in the saucepan and sprinkle the melted butter with flour. Stir the mixture constantly for about 3 minutes. Do not allow the mixture to burn. 
3. With a whisk, stir in the vegetable stock a little at a time ensuring the liquid is well mixed into the flour/butter mixture to avoid lumps. Whisk milk in in a slow and steady stream.
4. Return the vegetables to the pot. Add the corn, potatoes, thyme, oregano and bay leaf. Bring the chowder to a simmer. Cover the pot and simmer for about 20 minutes (or until the potatoes are fork tender).
5. Season with salt and pepper. Remove the bay leaf. 
Note: Although this soup is very creamy, you can add 1/4 cup of cream if you'd like a richer soup. Just reduce the milk by 1/2 cup if you use the cream.
Source: Fresh with Anna Olson (Seasonally Inspired Recipes)