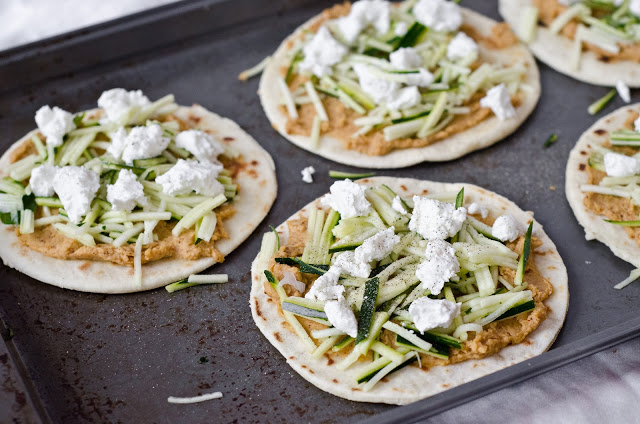 Hello! Hope you all had a great weekend. Mine was quite nice! Friday, I made homemade tortillas and then these delicious, unique quesadillas for dinner. Jesse and I then proceeded to watch Discovery Channel the rest of the evening. I know, I know…we're officially "those people". *hah* 
We made up for it on Saturday though! Saturday, we went to a local burger joint called UnBurger and we tried their vegetarian falafel burgers. They were great! I'm going to have to try and re-create them at home. They topped the burgers off with a homemade banana pepper relish. It was unreal! After dinner, we checked out a fantastic film called Visual Acoustics: The Modernism of Julius Schulman. It's a fantastic documentary about a famous architectural photographer that captured the Modernist movement in the USA and brought modernism into mainstream culture. He photographed works by Richard Neutra, Frank Lloyd Wright and many other design greats. I enjoyed the movie, as Julius Schulman's spirit was truly inspiring. And as a photographer, I really appreciated his discussion of light & shadow in architectural photos. I loved how his composition was so well-thought-out and deliberate. After the movie, we met some friends at a local dessert place called Baked Expectations. We celebrated our friends' Suzie and Bill's birthday. It was good times. And alas, here we are, back to Monday.
Hope you all have a fantastic week. I'll be back on Wednesday with a delicious granola recipe. Homemade granola is so easy to throw together and has a lot less sugar & additives than store-bought versions. It's also fun coming up with unique flavour combinations. I love adding homemade granola to my morning yogurt.
So, with that, I shall "see" you on Wednesday! :)
Ancho Chile & Roasted Garlic hummus (or hummus of your choice)

1 large zucchini; cut into matchsticks or julienned 

6 ounces of light goat cheese

salt and pepper to taste

condiments such as lime crema, salsa or guacamole
Ancho Chili & Roasted Garlic Hummus
1-15 ounce can of chickpeas; rinsed and drained

6 cloves of garlic, peeled and roasted

1 and 1/2 teaspoons of ancho chili powder 

2 tablespoons of tahini

2 tablespoons of olive oil

2 tablespoons of fresh lemon juice

3 tablespoons of finely chopped fresh cilantro

salt & pepper to taste
Method
1. Preheat oven to 375'F. Remove the skins from 6 cloves of garlic. Place cloves on a small piece of tinfoil. Drizzle garlic with some olive oil or canola oil. Loosely wrap the garlic with foil and roast garlic in over for 25 minutes.
2. Once garlic is nicely roasted and caramelized, remove it from oven and add to the bowl of a food processor. Add the chickpeas and pulse to combine. Add the lemon juice, tahini and ancho chill powder. Pulse again to combine. 
3. With food processor running, slowly add the olive oil in a steady stream. This will allow your hummus to become smooth and velvety. Remove hummus from the food processor. Add the freshly chopped cilantro, salt and pepper and mix well to combine. 
4. Preheat oven to 400'F. Place six tortillas on a non-stick baking sheet. Spread 1 to 2 tablespoons of hummus onto each tortilla. Sprinkle zucchini matchsticks onto each tortilla followed by crumbled goat cheese. Sprinkle with salt & pepper. Top each tortilla with a second tortilla.
Note: you may also add a sprinkle of cheddar cheese into each tortilla before baking if you'd like a more classic quesadilla.
5. Bake tortillas for 10 minutes or until the tortillas are lightly golden brown and the cheese has melted. Cut into quarters. Serve with lime crema, a fresh salsa or guacamole.
Yield: 6 large quesadillas or 24 wedges
Source: loosely adapted from Bobby Flay's Mesa Grill Cookbook