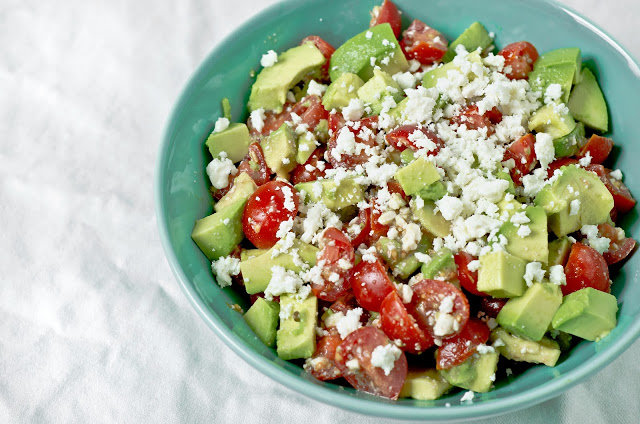 Every Sunday, Jesse and I wake up, make a pot of tea and some breakfast and then find an old movie on TV to watch. And every Sunday, you can guarantee there will be SOME old movie on. Our recent viewings have been Jurassic Park, Apollo 13, Mighty Ducks, Back to the Future, American Pie and Jaws. This morning, it's Independence Day. It's funny – I would normally not think to sit down and watch any of these movies, but I love our Sunday morning movie dates. And it's always fun to be surprised with our feature film. No matter how tacky! *hehe*
What does this have to do with Avocado Feta Salsa? Absolutely nothing! *hah* I am just typing up this blog post during our Sunday morning movie date and I thought to mention our fun little tradition :) Do you have any fun weekend traditions?
As for this Avocado Feta Salsa – it's amazing. My friend Rosanne brought it to our last book club meeting and I devoured it. It was quite embarrassing, as I inhaled more than my fair share. But I could not stop eating it – it was so addictive! It's really easy to throw together and is best served with tortilla chips, pita chips or melba toasts. It also makes a nice addition to a sandwich. 
Hope you all have a very happy Sunday!
Ingredients
4 roma tomatoes; chopped with seeds removed 

2 tablespoons of finely chopped red onion

2 cloves of garlic; minced (or more if you love garlic)

1/2 cup of crumbled feta cheese

4 tablespoons of chopped cilantro

3 tablespoons of red wine vinegar

2 tablespoons of olive oil

1/2 teaspoon of dried oregano

1/2 teaspoon of salt

2 large avocados
Note: if you don't want to use Roma tomatoes, you can use cherry or grape tomatoes (about 20) cut in half.


Method
1. Combine all of the ingredients except the avocados in a bowl and chill. Gently stir in the chopped avocado just before serving.


Source: my lovely friend Rosanne