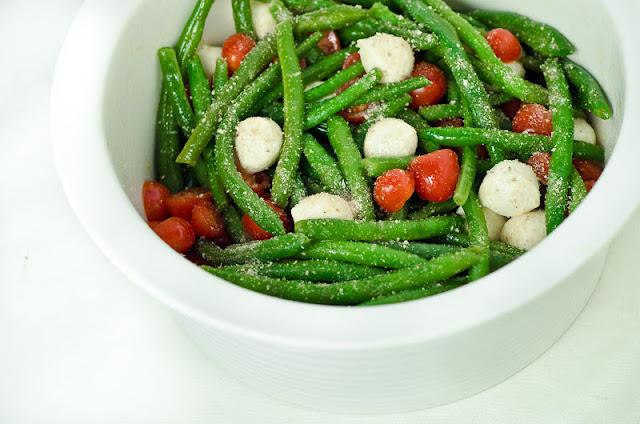 Tonight, I attended the first Manitoba Food Bloggers event at Elements Restaurant. It was a great time! I got to meet some wonderful local bloggers I had already been chatting with online. And I got to meet a lot of new people – all of different backgrounds and reasons for blogging. We got to sample some delicious food such as sun dried tomatoes with micro arugula on parmesan crisps. Yum! And we sampled local beer from Half Pints Brewery and wine provided by The Tipsy Thief. It was a really wonderful event and I am very much looking forward to our next meeting scheduled for April.
Today, I want to share one of my very favourite recipes – Italian Green Bean Casserole. My mom makes this for me all of the time and I never get sick of it. It's my favourite side dish. Every time my mom makes this for me, I request to take ALL of the left overs home. I'm too greedy to share this with others. It's that tasty. Even if you are not a fan of green beans, this casserole is sure to impress.
Ingredients
1.5 pounds of fresh green beans

1/2 teaspoon of kosher salt

3 cups of cherry tomatoes; cut in half

1/2 pound of bocconcini cheese (I use a container of bocconcini pearls)

4 to 6 leaves of fresh basil

1 cup of grated parmesan cheese

1/2 cup of Italian bread crumbs

3 tablespoons of butter

3 tablespoons of extra-virgin olive oil
Note: I use less butter and olive oil when I make this casserole. I also use a little less bread crumbs. Add butter, olive oil and bread crumbs to your taste.
Method
1. Arrange rack on top half of the oven. Preheat oven to 375'F.
2. Put a large pot of water on to boil.
3. Add the green beans, cover and bring to a boil. Once boiling, uncover the beans and cook for 10 minutes on medium (until the beans are just tender).
4. Drain the green beans and then toss them with 1/4 teaspoon of kosher salt.
5. Cut tomatoes and cheese into bite size pieces. Chop the basil.
6. Add the tomatoes, cheese and basil to the cooled beans. Drizzle the mixture with oil and remaining salt. Toss to combine.
7. Sprinkle 3/4 cup of bread crumbs into the bean mixture and toss. Place mixture in a casserole dish. 
8. Mix the remaining bread crumbs with the parmesan cheese. Sprinkle the mixture a top the casserole.
9. Cut the butter into pieces and sprinkle on top of the bread crumbs. Bake for 10 minutes, rotate the casserole dish and then bake another 10 minutes. The casserole is ready once the top is golden brown. If the top is not browning, bake for another 5 minutes at 400'F.
Source: my mom;  original recipe source unknown