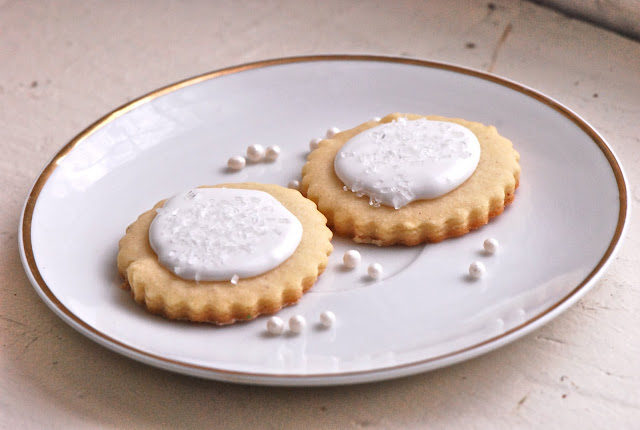 I've never been a huge fan of eggnog, but I am a huge fan of these eggnog flavoured shortbread! I think they may have become one of my favourite Christmas cookies. It's a toss up between these darlings and walnut shortbread thumbprints with raspberry jam (recipe to come!) They have just the right amount of spice. And a hint of eggnog in both the cookie dough and the icing/drizzle. 
Ingredients
2 teaspoons of vanilla extract

1 and 1/4 cup of unsalted butter, softened

1 cup of white sugar

1 and 1/2 teaspoons baking powder

1/2 teaspoon of ground nutmeg

1/2 teaspoon of ground cinnamon

1/2 teaspoon of salt

1 egg

1 tablespoon of eggnog

3 and 1/4 cups of all-purpose flour
3 cups of icing sugar

1/2 teaspoon of vanilla

3 to 4 tablespoons of eggnog (enough to make a spreading consistency)
Method
In a large bowl, beat the butter with an electric mixer on high for about 30 seconds. Add the sugar, baking powder, nutmeg, cinnamon, and salt. Beat until combined.

Beat in vanilla, egg and eggnog into the dough.

Beat in as much flour as you can with the mixer. If it becomes too tough, mix in the remaining dough by hand.

Divide dough in half, cover and chill for 1 hour.

Pre-heat oven to 375'F.

On a lightly floured surface, roll out one of the dough portions to 1/4 inch thick. Using a fluted 3 inch round cookie cutter, cut out the dough. Place dough rounds 1 inch apart on an ungreased cookie sheet (I used parchment paper). 

Bake cookies for about 8 to 10 minutes (or until the edges look lightly golden).

Transfer cookies to a wire rack and cool. Repeat with second portion of dough.

Once cooled, drizzle or ice the cookies with the eggnog drizzle/icing.
Cookies freeze extremely well. Once the cookies are drizzled with the icing, freeze cookies separately in the freezer, so they don't stick together. Cookies last about 3 months in the freezer. This recipe made about 40 cookies. 
Eggnog Drizzle/Icing
Stir 3 cups of icing sugar with 1/2 teaspoon of vanilla. Slowly add in 3-4 tablespoons of eggnog or until you get the right consistency to either drizzle the icing or spread it. (note: I found 3 cups of icing sugar to be too much. I used 1.5 cups and it made plenty icing to ice all the cookies)
Source: BHG Christmas Cookies (Special Edition) 2009