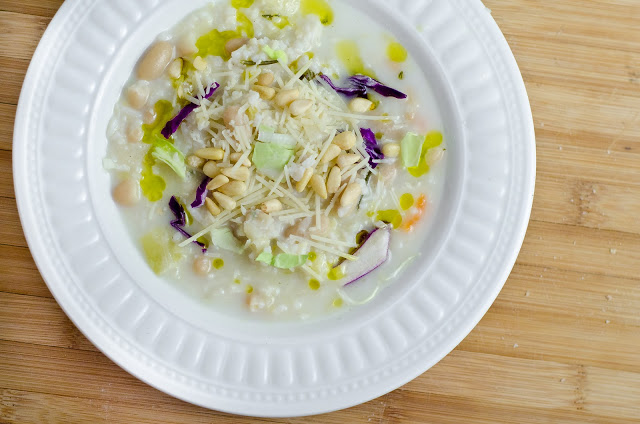 Arborio rice is normally known to be the rice you use in order to make risotto. And for anyone who has made risotto, you know it can be very tedious! It's not uncommon to stir arborio rice for 30 to 40 minutes while slowly adding broth. The results are creamy and delicious, but we don't always have the time to stand and stir the rice for half an hour. Thankfully, using arborio rice does not always need to be time consuming. Adding arborio rice to soup and allowing it to cook in the broth lends a really nice texture in the soup. And there is no arm-breaking stirring involved! The rice becomes tender but still has a slight bite to it. It also absorbs a lot of the flavours of the rosemary scented broth. The heartiness of the beans and the addition of cabbage make this soup perfect for a winter supper. The parmesan cheese and pine nuts make the soup a little more rich and a slight bit fancy. Because the soup has both rice and beans, it can be quite filling. I suggest serving this soup with a nice side salad such as my favourite Pear and Candied Pecan Salad with Maple Balsamic Vinaigrette.
Ingredients
2 tablespoons of olive oil

1/2 onion; chopped

2/3 cup of arborio rice

3 cloves of garlic; minced

3 and 1/4 teaspoons of fresh rosemary; chopped

6 cups of low-sodium vegetable broth

2 cups of sliced cabbage

1 bay leaf

1 15 ounce can of cannellini beans; rinsed

juice of half a lemon

salt and pepper to taste

1/4 cup of pine nuts

parmesan cheese (optional)

splash of cream (optional)
Note: the original recipe calls for toasted bread crumbs on top of the soup as an additional garnish. I opted to make the soup gluten free and skipped the bread crumbs. Leaving out the parmesan cheese and cream make this a delicious vegan soup.
Note: Instead of slicing cabbage myself, I used two cups of coleslaw mix which had some shredded carrots and a few different types of cabbage. It was really nice in the soup.
Method
1. Heat 2 tablespoons of olive oil in a large pot over medium heat. Sweat the chopped garlic and shredded cabbage for 5 minutes or until tender. Add the rice and sauté for about 6 minutes. This will lightly toast the arborio rice. Stir in the garlic and rosemary. Sauté for two minutes.
2. Add the broth and bay leaf, cover and bring to a boil. Reduce heat to medium-low and simmer for 10 minutes.
3. Toast pine nuts if desired. 
4. Add beans to the soup and cook another 5 minutes or until the rice is tender. Season with salt and pepper then remove the bay leaf. Stir in splash of cream if using.
5. Add juice of half a lemon into the soup. Stir well. Ladle soup into bowls and garnish the soup with grated parmesan cheese and toasted pine nuts.
Source: Vegetarian Times January/February 2012