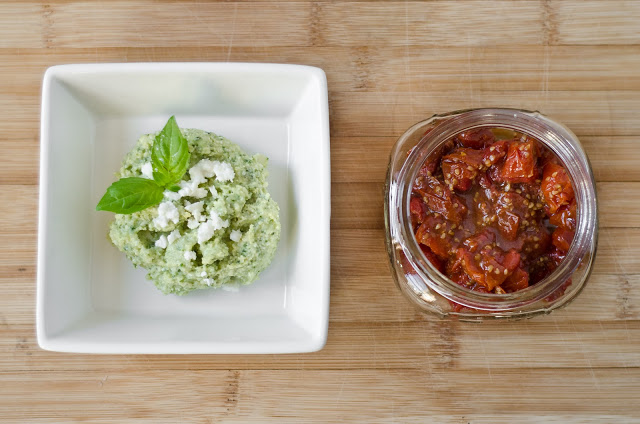 Today I would like to share two fantastic sandwich toppings I recently discovered: feta almond pesto and balsamic roasted cherry tomatoes. Both of these condiments are easy to make and really bring sandwiches to the next level. Both condiments will last about a week in the fridge.
My favourite way to enjoy both the feta almond pesto and the balsamic roasted cherry tomatoes is in a grilled vegetable panini. Now, I had prepared a lovely grilled vegetable panini with these two toppings to photograph and include in today's post. However, being the huge klutz that I am…I knocked the whole plate on the floor and the poor little panini was destroyed! Actually, half the panini landed on our new couch and I had balsamic roasted tomatoes ALL over! I had a minor heart attack, but thankfully the tomatoes did not stain the new couch. Yikes! *haha*
I recommend grilling slices of zucchini, red pepper and yellow pepper on an indoor (or outdoor grill), or roasting some veggies in the oven with a bit of olive oil, salt & pepper. Once you have your vegetables grilled or roasted, you can create a fantastic sandwich (toasted or not) by stacking the veggies between two slices of hearty bread topped with some almond feta pesto and roasted balsamic cherry tomatoes. I promise this vegetarian sandwich won't disappoint!
For my wonderful vegan friends, you can make a lovely vegan feta cheese with almonds using the following recipe from Vegetarian Times. Then you too can enjoy the almond feta pesto on your sandwiches. 
Almond Feta Pesto
1/4 cup of slivered almonds

2 cups of packed fresh basil leaves

1/3 cup of extra-virgin olive oil

1 small clove garlic, minced

1 teaspoon of fresh lemon juice

1/4 teaspoon each of salt & pepper

1 cup of crumbled feta cheese
1. In a small dry skillet, toast the almonds over medium heat – shaking the pan often. Toast the almonds until light golden brown. Note: nuts can burn easily, so make sure you watch them closely. Transfer toasted almonds to a food processor and allow them to cool.
2. Add the basil, oil, garlic, lemon juice, salt and pepper to the toasted almonds. Purée the mixture. Pulse in the feta cheese.
Roasted Balsamic Cherry Tomatoes
2 and 1/4 cups of cherry tomatoes, halved (grape tomatoes work too!)

1 tablespoon of olive oil

1 and 1/2 teaspoon of balsamic vinegar

1/4 teaspoon of salt
1. Preheat oven to 400'F. In an 8-inch square baking dish, toss together the tomatoes, oil, vinegar and salt. 
2. Roast the tomatoes until they are shrivelled (about 35 to 40 minutes). Allow them to cool and store them in the fridge.
Source: Canadian Living February 2012