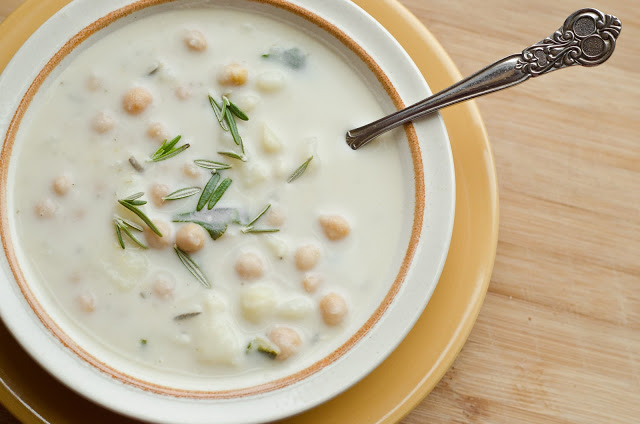 Hello! Hope you all had a great weekend. My weekend was quite nice. Temperatures have returned to what can be expected here on the Canadian Prairies after a much appreciated warm start-to-the-winter. Now that temperatures are below zero, snow is finally staying on the ground and the skating rinks are actually able to stay open. In honour of the chilly weather, Jesse and I went skating today at my favourite park in the city – Kildonan Park. My attempt at skating was very reminiscent of Bambi trying to take his first few steps. I was terrible! Although, I only had one epic fall. *hehe* Terrible at skating or not, I had a really nice time. Hopefully practice makes perfect and I'll improve by end-of-season!
This cool (or….freezing) weather has also inspired me to get into the kitchen and make delicious, heart-warming soup. This past weekend I made a batch of this Chickpea Potato Soup with Lemon Rosemary Broth. The lemon and rosemary broth was extremely flavourful and light. I greatly enjoyed being in the warm kitchen watching over the pot of soup while snow fell outside. I am looking forward to making another batch of soup next weekend. Soup is the perfect winter meal. Warm, hearty and comforting. Plus, soup is brilliant if you need to sneak a few more vegetables into your diet! 
Over the winter, I am hoping to post a new soup recipe each Monday. That way, you too can enjoy adding new and delicious soups to your weekly dinner repertoire over the winter months. Soups are ideal as they are generally quick to throw together and offer such variety to break up the winter doldrums.
Here are a few other soup recipes from the past year: 
And if you like to eat your soup with a hearty piece of bread, give this recipe for 
Ingredients
2 tablespoons of olive oil

1 cup of diced white or yellow onion

2 cloves of garlic; minced

2 teaspoons of finely grated lemon zest

2 teaspoons of finely chopped fresh rosemary

5 cups of vegetable stock

6 sliced white mini potatoes (or 2 small potatoes; cubed)

1-14 oz can of chickpeas; drained and rinsed

1/2 bunch of swiss chard or fresh spinach leaves

salt & pepper to taste

2 tablespoons of fresh lemon juice

splash of cream (optional)
Method


1. Heat the olive oil in a soup pot over medium heat. Sauté the onion until translucent (about 5 minutes). Add the garlic, lemon zest and rosemary. Stir for a minute. 


2. Add the vegetable stock and potatoes. Cover the pot loosely and bring to a simmer. Simmer the soup until the potatoes are tender (about 15 minutes). Stir in the rinsed chickpeas.


3. Wash the swiss chard or spinach. Note: If you are using swiss chard, make sure to separate the stems from the leaves. Chop the stems into small pieces and add to the soup. Chop the chard leaves or spinach leaves roughly then add to the soup. Leaving the pot uncovered, simmer the soup until the chard or spinach has wilted slightly (about 3 minutes). Season to taste with salt and pepper.


4. Add splash of cream if using. Immediately before serving the soup, add the lemon juice. Stir, serve, enjoy.


Source: Anna Olson – In The Kitchen