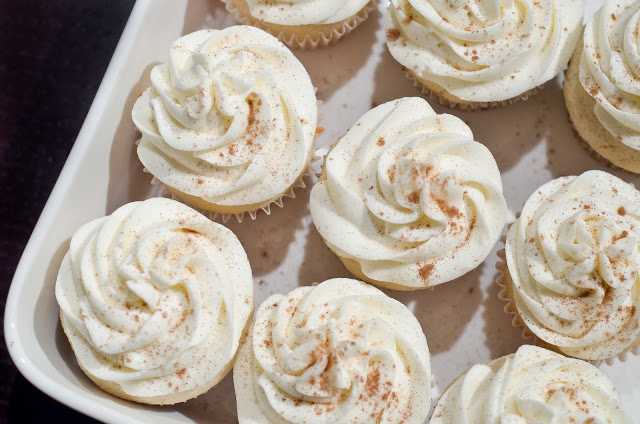 Eggnog is a classic Christmas flavour. And even though I'm not a fan of eggnog itself, I am a huge fan of eggnog flavoured baking! Last year, I decided to make eggnog shortbread to include in my Christmas baking gift baskets. However, the cookies did not make it into the baskets the week of Christmas. They were too difficult to resist and were all eaten within a day or two of being baked. Mmmm!
After success with the eggnog shortbread, I was excited to try an eggnog-related baking item again this year. After I saw this recipe on my favourite blog Annie's Eats (and because I adore making cupcakes), I decided that this year I would make eggnog cupcakes. I made a batch this past week and brought them into work for our Christmas lunch. The cake itself is really nice, but the best part is definitely the icing. It is delicious. It has the nicest eggnog flavour and looks so pretty with the little flecks of ground nutmeg.
These eggnog cupcakes are the perfect dessert to bring to a holiday party this season. They are really easy to put together and provide a nice unique contrast to all the other Christmas sweets on the dessert table.
Cupcake Ingredients
1 and 1/3 cups of all-purpose flour

1/4 teaspoon of baking soda

1/2 teaspoon of baking powder

1/2 teaspoon of salt

1/4 teaspoon of ground nutmeg

1/4 cup of dark rum or bourbon (optional)

1 cup of eggnog

1/4 cup of canola or vegetable oil

1 tablespoon of apple cider vinegar

1 teaspoon of vanilla extract

1 cup of granulated white sugar
Frosting Ingredients
20 tablespoons of unsalted butter; at room temperature

2 and 1/2 cups of confectioner's sugar; sifted

pinch of salt

2 and 1/2 tablespoons of eggnog

1 tablespoon of dark rum (optional)
Garnish: ground cinnamon or grated nutmeg
Method
1. To make the cupcakes, preheat the oven to 350'F. Line cupcake pans with paper liners. In a medium bowl, combine the flour, baking soda, baking powder, salt and nutmeg. Whisk to combine. In a large bowl, combine the rum, eggnog, oil, vinegar and sugar with an electric mixer. Beat on medium-low speed until well blended. Add the dry ingredients and mix on a low speed just until incorporated.
2. Divide the batter between the prepared cupcakes liners, filling the cups 2/3 full. Bake 22 to 24 minutes, or until a toothpick inserted in the centre comes out clean (with a dry crumb). Allow to cool in the pan 5 minutes, then transfer to a wire rack to cool completely.
3. To make the frosting, place the butter in the bowl of an electric mixer fitted with the whisk attachment. Beat on medium-high speed until smooth, 20 to 30 seconds. Add in the powdered sugar, salt and nutmeg, and mix on medium-high speed until incorporated and smooth (about 1 minute). Scrape down the sides of the bowl. Add in the eggnog and whip on medium-high speed until light and fluffy (about 4 minutes). With the mixer on medium-low, blend in the rum.
4. Fill a pastry bag with the frosting and decorate the cooled cupcakes as desired. Sprinkle with ground cinnamon or grated nutmeg.
Source: Annie's Eats