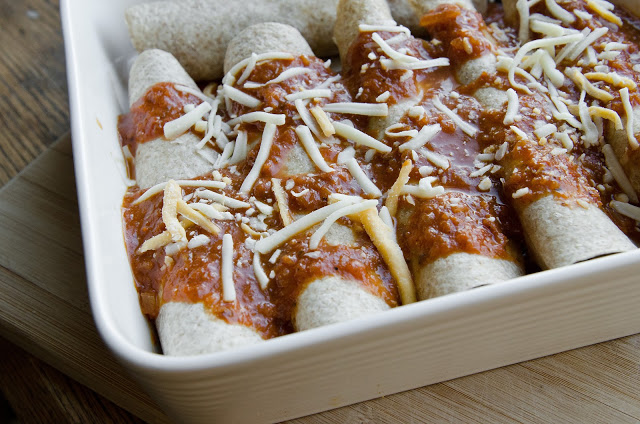 Hello, and Happy Vegan Tuesday! Time seems to be flying by way too quickly these days! It feels like fall has flown by and the Christmas season is almost upon us. It snowed here this morning – further proof fall is coming to an end in these parts. And the most clear indicator that winter is near is that it gets dark before I get home from work every evening! Actually, it's dark when I go to work in the morning too. How depressing! *hah*
I recently made these vegan enchiladas with roasted sweet potatoes and black beans and had to share the recipe for one of my Vegan Tuesday posts. These were so so so good! However, as I rushed to get everything put together, sun light was fading quickly. I love natural light photography, so I tried so very hard to get a decent shot of the enchiladas before the sun went down. However, it was a bit of a fail. These enchiladas looked a lot yummier than this photo shows. But since the recipe itself is such a winner, I decided to post these enchiladas regardless of the crummy photo! :) Alas, I think I'll have to learn how to do indoor photography better, so that I'm able to continue posting decent photos with my recipes over the winter! *hehe*
Hope you all had a fantastic weekend! For my American friends, make sure you get out and vote today! :) Being able to vote is a great privilege – one that many do not have in other parts of the world. Do your part and vote :)
Sweet Potato + Black Bean Filling Ingredients
1 large sweet potato, peeled and diced into 1/2 inch cubes

2 tablespoons of olive oil

1 teaspoon of ground cumin

1 teaspoon of onion powder

1 teaspoon of garlic powder

1 teaspoon of chili powder

salt and pepper to taste

1 540ml can of black beans, drained and well-rinsed
Enchilada Sauce Ingredients
2 tablespoons of olive oil

1 small onion, finely diced

1 14.5 oz can of fire-roasted tomatoes (diced)

1 teaspoon of cumin

1 teaspoon of minced garlic (or 1 teaspoon of garlic powder)

1 teaspoon of chili powder

salt and pepper

1 tablespoon of pure tomato paste

1 cup of water
1 cup of Daiya vegan cheese shreds (or regular cheddar cheese)

fresh baby spinach leaves (about 2 cups)

12 whole wheat flour tortillas (small)
Toppings: sliced avocado, fresh chopped cilantro, squeeze of fresh lime juice
Method
1. Preheat oven to 400'F. Comine the filling spices in a small dish.
2. For the roasted sweet potatoes: In a medium bowl, toss the sweet potato cubes with olive oil. Sprinkle filling spice mixture overtop the sweet potato cubes. Mix well to evenly distribute the seasoning amongst the potatoes. Place the coated sweet potatoes on a parchment-lined baked sheet (with a lip) and roast them for 25 to 30 minutes (or until the sweet potatoes are soft, but not too tender).
3. For the enchilada sauce: Heat olive oil over medium-high heat in a large saucepan. Add diced onion and sauté until soft and translucent (about 10 minutes). Add the cumin, garlic (powder) and chile powder. Sauté another minute and then add the can of fire roasted tomatoes. Break tomatoes down with a spoon. Stir in 1 cup of water along with the tablespoon of pure tomato paste. Allow sauce to simmer for 20 minutes. Season with salt and pepper. 
Note: If you'd like your sauce to be on the smoother side, you can purée it with a hand immersion blender or in a blender.
5. Assembly: Put a scoop of the roasted sweet potatoes in the centre of a tortilla. Top with a scoop of black beans and some baby spinach leaves. Roll the tortilla and place it seam-side down in a prepared baking dish. Repeat with the remaining tortillas and filling.
6. Bake: Bake the enchiladas until the edges of the tortillas begin to get a bit crisp (about 20 minutes). Remove from oven and lightly cover each enchilada with the enchilada sauce. Sprinkle on some cheese. Bake for another 10 to 15 minutes, or until the cheese has melted.
Serve: top each enchilada with some avocado slices, a good squeeze of lime juice and some chopped cilantro
Yield: 12 enchiladas (serves 6)
Source: Café Flora Coobook by Catherine Geier