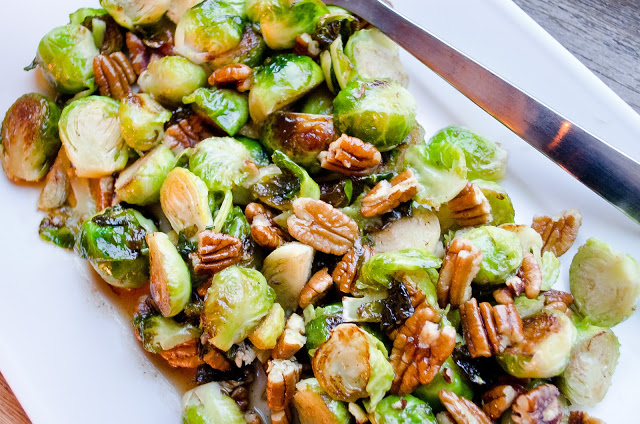 I have hated brussel sprouts as long as I can remember. My mom used to make them every so often HOPING my sister and I would start to like them. Over the years, I have grown to love pretty much every vegetable possible….except for….brussel sprouts. For some reason, when I stumbled upon Bobby Flay's recipe for brussel sprouts roasted with pomegranate molasses, I was intrigued! I decided that I needed to make them for Thanksgiving dinner recently. Sadly, I could not find any pomegranate molasses, so I opted to use pure maple syrup instead. Turns out brussel sprouts are pretty delicious when smothered in maple syrup and topped with homemade vanilla butter. Who knew!? :) This little side dish became a family favourite immediately and is already on the menu for Christmas dinner. Since my entire family adored this recipe, I thought I would share it with you. (I apologize for the poor quality photo mind you!) Even if you have disliked brussel sprouts most of your life, I highly recommend giving these a try next time you need a tasty, unique side dish.
Ingredients
6 tablespoons of unsalted butter; slightly softened

1 vanilla bean; seeds scraped out

1/4 cup of toasted pecans; chopped

salt and pepper to taste

1 pound of brussel sprouts; washed, trimmed and cut in half

2-3 tablespoons of canola oil

2 tablespoons of pure maple syrup

1 tablespoon of freshly grated orange zest
Method
1. Combine the butter and vanilla bean seeds in a small bowl. Fold in the pecans and seasons with salt and pepper. Cover and refrigerate for at least 30 minutes before serving.
2. Preheat oven to 375'F.
3. Place the brussel sprouts in a medium roasting pan and toss with the canola oil. Season with salt and pepper. Roast the brussel sprouts in the oven until lightly golden brown (about 20 minutes). Make sure to toss the brussel sprouts every so often to allow even cooking.
4. Remove the pan from the oven and add the maple syrup. Stir well to coat all brussel sprouts evenly. Return to the oven and cook the sprouts until tender (about 5-10 minutes). Note: watch the sprouts closely at this point to ensure they don't burn.
5. Transfer the sprouts to a large bowl. Add a dollop or two of the vanilla butter. Mix well and allow the butter to melt all over the sprouts. Top with some fresh orange zest and some additional pecan pieces.
Source: adapted from Bobby Flay's recipe for Brussel Sprouts with Pomegranate Molasses and Pecans