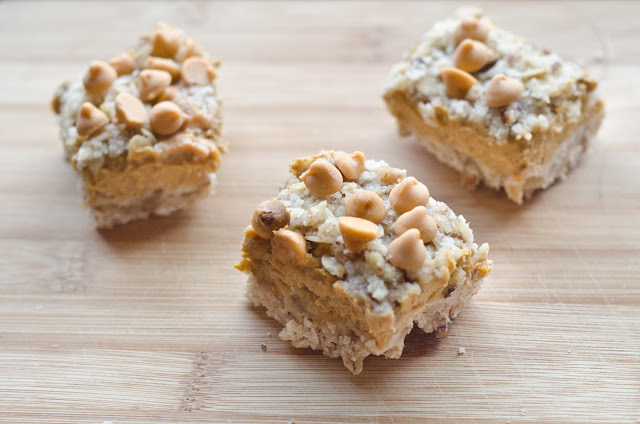 And so continues my obsession with pumpkin…
After the Pumpkin Maple Macaroni & Cheese, the next item on my Fall baking to-do list was pumpkin bars with butterscotch chips. What sold me on this recipe was the crust: a pecan shortbread crust with brown sugar and oats. When topped with the whipped cream cheese, pumpkin topping these little bars are pretty irresistible. And butterscotch chips…how have I not tried these before? They are addictive! 
What do you have on your fall baking to-do list?
Crust & Topping Ingredients 
1 and 1/3 cups of all-purpose flour

1/4 cup of granulated sugar

1/2 cup of brown sugar; firmly packed

12 tablespoons of cold unsalted butter; cut into pieces

1 cup of old-fashioned oats

1/2 cup of chopped pecans
Filling Ingredients
8 ounces of cream cheese; softened

1/2 cup of granulated sugar

3 large eggs

1-15 ounce can of pumpkin purée (not pumpkin pie filling)

1 tablespoon of pumpkin pie spice

1 teaspoon of vanilla extract

Butterscotch chips; for topping
Method
1. Preheat oven to 350'F. Line a 9×13-inch baking pan with foil, extending the foil over the edges of the pan. Lightly grease the foil. Combine the flour, granulated sugar and brown sugar in a small mixing bowl and toss with a fork. Add the pieces of butter to the dry ingredients and cut it in with a pastry cutter until the mixture resembles coarse crumbs. Stir in the oats and chopped pecans.
2. Reserve 1 cup of the crust mixture and set aside. Add the remaining crust mixture to the prepared baking pan and press onto the bottom of the pan in an even layer. Bake the crust alone in the oven for 15 minutes. In the meantime, prepare the filling.
3. To make the filling, combine the cream cheese, sugar, eggs, pumpkin purée, pumpkin pie spice and vanilla in the bowl of a mixer. Mix on medium speed until smooth and well combined.
4. Once the crust has been removed from the oven, pour the filling into the pan and smooth over crust. Sprinkle with the reserved crumb mixture and butterscotch chips (as desired). Bake for 25 minutes, remove from the oven and transfer to a wire rack to cool. Slice and serve. Caution: may fill your home with delicious scents of cinnamon and nutmeg. Mmmm!
Source: Annie's Eats, originally from Kraft