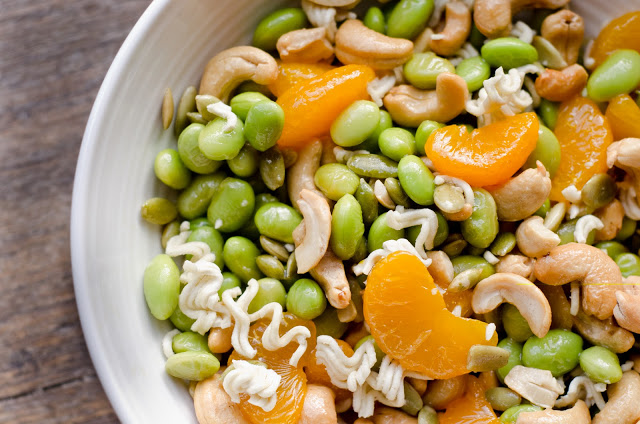 Back in late August, I was fortunate enough to spend 3 fantastic days (hot & sunny days) in Las Vegas with a good group of friends. We had a great time exploring the strip over the three days. I took many photos, spent a lot of time people watching, shopped a bit, lounged by the pool and enjoyed some great food. Ah yes….the food :)
One restaurant that really impressed me was a small place in the Fashion Show Mall called Ra – a japanese restaurant. It had a really cool atmosphere and a great patio out front. Their drink menu was extremely unique and I wish I had had a bit more room to try a few cocktails! The Blushing Geisha sounded wonderful. I'll have to have one next time I visit The Strip.
 The food itself could be characterized as Japanese Fusion. Ra offered excellent sushi options (vegetarian and not), as well as an eclectic mix of appetizers. I opted to to try the wontons with a roasted pineapple and cream cheese filing. The fried wontons were served with a sweet chili dipping sauce. They were fantastic! I definitely need to try and recreate those delicious wontons at home soon. For the main course, I ordered the Mandarin Chicken Noodle Salad (minus the chicken). It was a brilliant mix of salty roasted cashews, fresh greens, chunks of creamy avocado, sweet mandarin orange segments, fresh edamame and crunchy dried oriental noodles topped with a savoury ginger-miso dressing.
After I got home from the weekend get-a-way to Las Vegas, I set out to re-create the delicious salad I had at Ra. I opted to use the ginger-miso dressing from Michael Smith's new cookbook. It's definitely a winner! 
Ingredients
2 cups of frozen edamame (raw soy beans)

2 cups of fresh spinach leaves (or an assortment of your favourite greens)

1/2 cup of cashew halves; toasted

1 cup of dried oriental noodles; crushed

1 cup of canned mandarin orange segments; drained

1 avocado; peeled and diced

1/4 cup of vegetable or canola oil

1 tablespoon of toasted sesame oil

2 tablespoons of fresh ginger; peeled and grated

2 tablespoons of rice wine vinegar

1 tablespoon of white miso paste

1 teaspoon of soy sauce

1 teaspoon of honey
Method


1. Bring a small pot of salted water to a boil. Add the frozen edamame beans and cook them for 5 minutes. Drain and set aside.


2. Prepare the dressing: In a small bowl, whisk together the vegetable oil, sesame oil, ginger, rice wine vinegar, miso paste, soy sauce and honey until smooth.


3. In a large salad bowl, combine the spinach leaves, edamame beans, cashews, pumpkin seeds, dried oriental noodles, mandarin orange segments, and avocado slices.


4. Dress the salad as desired with the ginger-miso dressing. 


Source: adapted from the mandarin chicken noodle salad at RA 
[a restaurant in Las Vegas, Nevada]; dressing from Michael Smith's Kitchen (100 Favourite Recipes)


Blushing Geisha Cocktail
lemonade

Skyy Raspberry Vodka

Chambord (raspberry liqueur)

lemon-lime soda