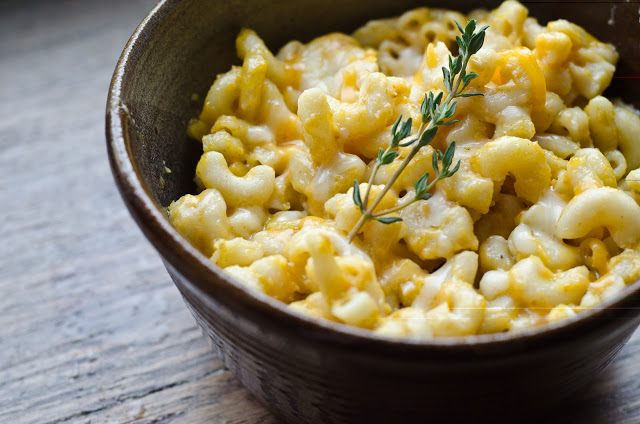 Autumn is by-far my favourite season. I love the chilly air and getting to wear sweaters/hoodies and boots again. I love being cozy! This past week it went from 30'C on Monday to 4'C on Tuesday. What a change! Autumn came very abruptly this year! I quickly dug out my favourite sweaters on Tuesday and retired my favourite pair of sandals for another year. 
Another thing I love about Autumn is the changing colours of the trees. I love the rich fiery reds and deep golden yellows. So pretty! I love switching from iced teas and frapuccinos to apple ciders, hot chocolates and pots of delicious warm tea. I love the smoky smell of the fall where all the farmers in the area are burning off their fields. And more than anything, I love fall baking and cooking. I love cooking with butternut and acorn squash, apples & cinnamon, anything with maple, cranberries, pears, sweet potatoes….and pumpkin. Mmmm….pumpkin. I have a little obsession with pumpkin. :)
And this is why I decided to kick off my fall baking/cooking season with Pumpkin Maple macaroni and cheese. I was extremely intrigued when I stumbled on this recipe while surfing the web the other day. I love maple and pumpkin together. But in a macaroni and cheese dish? Somehow…it works. Quite well in fact! The beer gives the dish an underlying richness. The maple and pumpkin give the dish a hint of sweetness, while the cheese lends the dish a balancing level of saltiness. Mustard, cloves and nutmeg make the sauce savoury and something quite special. Don't be scared to try this dish, as I realize it sounds a little "out-of-the-norm." I definitely recommend you take the chance and make this easy, fall-inspired dish. It's a real winner; one to warm up cool autumn nights.
If you are equally obsessed with baking/cooking with pumpkin, check out the recipes I previously posted on The Fig Tree that have pumpkin as a main ingredient:
Pumpkin Honey Walnut Bread
Pumpkin Cupcakes with Spiced Cream Cheese Frosting
Pumpkin Pie Bars


Ingredients
1 pound of short-cut whole wheat pasta; such as macaroni or penne

4 tablespoons of unsalted butter

3 tablespoons of flour; slightly rounded

1 cup of amber beer (such as Half Pints Bulldog Amber Ale)

2 tablespoons of maple syrup

2 cups of milk (skim works fine)

2 pinches of ground cloves (or 1/2 teaspoon of allspice)

1 teaspoon of ground mustard

pinch of cayenne pepper

1/4 teaspoon of ground nutmeg

salt and pepper to taste

1-14 ounce can of pure pumpkin purée

2 and 1/2 cups of shredded sharp yellow cheddar cheese; divided

sweet paprika for sprinkling

chopped parsley, chives or a sprig of thyme for garnish
Method


1. Pre-heat oven to 350'F. Bring a large pot of water to a boil. Salt the water and then cook the pasta until al dente. Drain and set aside.


2. Melt the butter in a medium sauce pan over medium heat. Whisk in the flour ensuring no lumps develop; cook for 1 minute. Raise heat a small bit and add beer. Whisk well to ensure no lumps form. Once the beer has evaporated a bit (about 5 minutes), whisk in the maple syrup and milk. Season with cloves or allspice, mustard, cayenne and the nutmeg. Add salt and pepper to taste. Allow the mixture to cook on medium heat until the sauce leaves a thick coat on the back of a spoon (about 3 minutes).


3. Whisk in the pumpkin purée then stir in 2 cups of grated cheddar cheese. Mix until the cheese is melted. Combine the pasta and the sauce and arrange in a casserole dish or individual ramekins. Sprinkle remaining cheese on top. Dust tops lightly with paprika. Bake for 15 minutes and/or broil to allow the top to get brown and bubbly.


4. Garnish with fresh chopped parsley, chives or sprigs of thyme.


Source: Rachel Ray