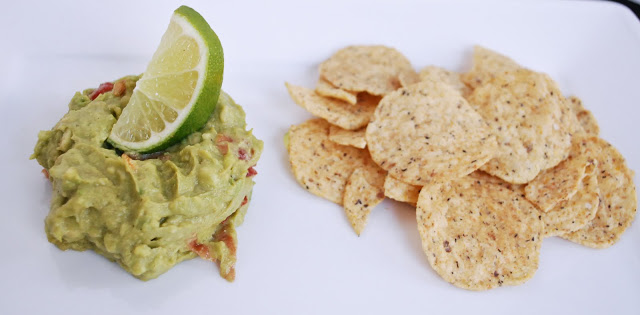 Today it was gorgeous outside; so bright and sunny! And finally, it was actually warm enough to head outside in shorts and a tank top. Yay! After a nice long walk outside today, I had a craving for a big glass of iced tea and some homemade guacamole with chips. Thankfully I had all of the necessary ingredients around the condo!
However, I found that guacamole is not the easiest thing to photograph! *hah* It is not that appealing to look at. But, I promise you…it tastes incredible. This guacamole recipe is extremely easy and would make for an excellent appetizer for a BBQ or picnic this spring & summer. You MAY want to double the recipe. Guacamole has a tendency to disappear quickly whenever I serve it.
Ingredients
2 ripe avocados

1 medium-sized tomato; diced

1 lime (the juice of one lime)

1/2 teaspoon of ground cumin

1/4 teaspoon of black pepper

1/2 teaspoon of coarse salt

1 clove of garlic; finely minced

1 tablespoon of fresh chopped cilantro
Method
1. Cut the avocados in half and discard the pits. Sometimes the pits are difficult to remove. I just hit the blade of my knife into the middle of the pit and turn clockwise. More often than not, the pit pops right out. After you've discarded the pit, use a spoon to scoop all of the buttery green flesh of the avocado from the skin. Note: if there are a lot of brown spots on the flesh of the avocado, you may have one that is too ripe and on the verge of going bad. 
To ensure you don't have an over-ripened avocado, try the following test when choosing an avocado at the store. If you gently press your thumb into the skin of the avocado and it only yields slightly, then you've got a perfect avocado for guacamole. If your thumb pushes right into the avocado, it is too ripe. You can tell when it is too soft. The avocado will feel quite mushy. If the avocado does not yield to the pressure of your thumb at all, then it is likely not ripe enough yet. You can leave these avocados on your counter for a day or two and it will ripen nicely. Avocados ripen quickly! So, if you are planning on making guacamole on Saturday and today is Tuesday…you may want to keep the avocados in the fridge until Friday morning to prevent them from ripening too quickly on you.
2. Mash the avocado flesh with a fork until it is at your desired consistency. Then add the juice of one small lime. Mix well. The lime adds flavour and will prevent the guacamole from going brown too quickly.
3. Add the salt, pepper, cumin and garlic. Mix well.
4. Add the chopped tomatoes and mix. Sprinkle with fresh chopped cilantro.
You can use homemade guacamole as a dip for chips, in sandwiches and wraps, or as a condiment for a tortilla soup. One way that I love to use guacamole is in a layered dip. 
For a layered dip: 
Mix 1 (8oz) package of cream cheese (room temperature) with 1/2 cup of sour cream. Mix in a tablespoon of taco seasoning; or more if you like more seasoning. Then, in a small casserole dish, layer the guacamole, 1-15 ounce can of black beans (rinsed), the cream cheese mixture, a jar of salsa and top with a few dollops of sour cream and cover in shredded cheddar cheese. Mmmm! Serve with taco chips and/or crackers.
Source: Courtney Jones