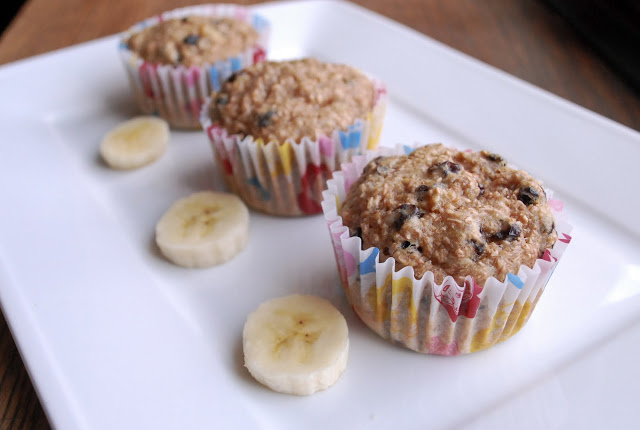 If you are looking for a healthy, low-fat muffin to start your morning, but also still want a lot of flavour…look no further. These banana bran muffins are delicious. The mashed banana in the muffins make them so moist and the cinnamon & brown sugar give these muffins a ton of flavour. The wheat bran is soaked in buttermilk before being added to the batter, so the bran itself is nice and moist as well. I just made a double batch of these muffins to freeze to have in the house for breakfasts and/or afternoon snack. They are the perfect treat to have around and freeze well. These muffins are also great to make when you need to use up a few bananas that are starting to go brown. Seems like I always have some in the house. *heh* Enjoy! And have a happy weekend. :)
Ingredients
1 and 1/2 cups of wheat bran

1 cup of buttermilk (or 1 tbsp of white vinegar & 1 cup of skim milk)

1 and 1/2 cups of mashed ripe banana (about 3 bananas)

2/3 cup of light brown sugar; packed

2 large eggs

1/4 cup of vegetable or canola oil

1 and 1/2 cups of all-purpose flour

1 and 1/4 teaspoon of baking powder

1/2 teaspoon of fine salt

1/2 teaspoon of ground cinnamon

1/2 cup of dried fruit (raisins, cranberries, apricots, cherries, currants, blueberries etc)
Method
1. Preheat over to 350'F and grease a 12-cup muffin tin (or use muffin wrappers).
2. In a small bowl, stir the bran and buttermilk to blend and let the mixture sit for 15 minutes, so that the bran can soften up.
3. In a large bowl, whisk the mashed banana, sugar, eggs and oil to blend. Stir the bran mixture into the banana mixture.
4. In a separate bowl, stir the flour, baking powder, salt and cinnamon together. Add the flour mixture to the bran/banana mixture. Stir until just combined. Your batter may be a bit lumpy, but that's just fine.
5. Stir in the dried fruit. I used currents.
6. Spoon batter into prepared muffin tin.
7. Bake for 20 to 25 minutes, or until the top of the muffin springs back when pressed. Cool for 15 minutes in the tin and then turn the muffins onto a wire rack to cool completely.
Muffins can be kept in an airtight container for up to 4 days or frozen for up to 3 months. Makes 12 large muffins. NOTE: I used a small muffin tin, so I made 24 small muffins.
Source: In The Kitchen with Anna Olson: New Ways with the Classics