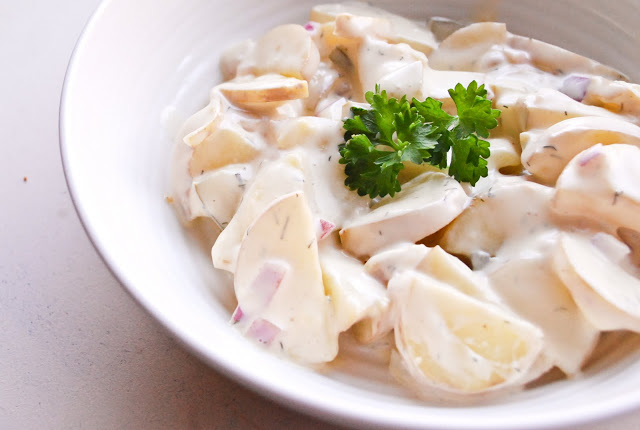 This past Friday, I was out late sitting on a patio with some good friends enjoying a fantastic warm spring evening. We started talking about our summer plans and how we need to get together soon and have a fantastic BBQ to kick off the summer season. It was a really long winter here on the prairies, and now that it is fairly warm out…some celebrating is due! All the talk of BBQs got me wondering…what would I bring to the BBQ celebration? After much thought, I decided upon my favourite potato salad; a recipe from my mom. She brought this salad to a family birthday party last summer and I was in love. I adore dill pickles and this salad has tiny pieces of dill pickle mixed in. Heaven! I definitely recommend bringing this salad to your next picnic or BBQ. It's a guaranteed hit.
Ingredients
8 medium Yukon Gold Potatoes, peeled and chopped

3/4 cup of low-fat Mayonnaise (or vegan mayonnaise)

1/8 cup of Dijon Mustard

1/4 cup of dill pickle, chopped

1/8 cup of dill pickle juice (from the jar)

1/4 small red onion, chopped

1 teaspoon of fresh or dried dill

1 tablespoon of fresh flat-leaf parsley, chopped

2 tablespoons of fresh lemon juice

1 pinch of salt

1 tablespoon of green onion, chopped

2 chopped hard-boiled eggs (optional)
NOTE: You can also use about 12 to 15 new potatoes/baby potatoes for this salad. No need to peel the new potatoes. Just chop them up into bit-sized pieces and bring them to a boil as you would the full sized Yukon Gold potatoes. Using new potatoes can speed things up a bit, since you don't have to peel them :)
Method
1. Put the peeled, diced potatoes in a medium-sized pot and pour cold water over them; enough to cover them well. Bring the water to a boil. Once the water is at a boil, reduce the heat to a simmer. Allow the potatoes to cook at a low heat for 15 minutes (or until a paring knife poked through the middle of a potato goes through the middle without effort). NOTE: it is always best to put your potatoes in a pot, add cold water over top of the potatoes, and then bring the entire thing to a boil. This will allow the potatoes to cook very evenly.
2. Drain and cool the potatoes.
3. Mix the remaining ingredients all together to make the dressing.
4. Combine the cooled potatoes with the dressing. Toss well and chill before serving. Garnish with some additional parsley.
Source: unknown