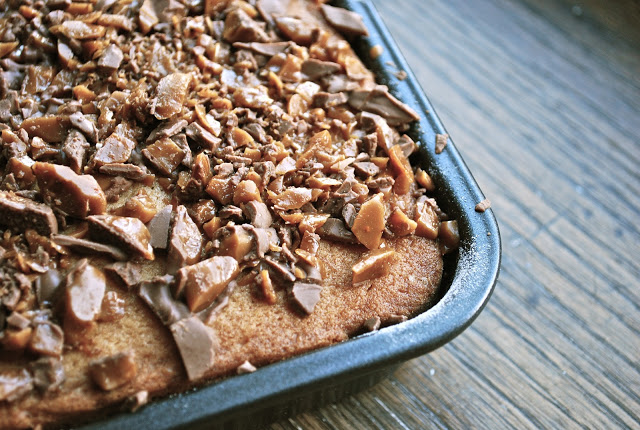 Flipping through an issue of Vegetarian Times Magazine, I came across this recipe and I had to try it. I love any sort of coffee-cake, but this one has chocolate and toffee; one of my favourite combinations. So, I decided to make it for my parents and sister for Valentine's Day….at 1AM on a work night! The cake was very easy to make. The key to this light & fluffy cake is whipping the batter on medium-high speed for a full 2 to 3 minutes to incorporate air.
Ingredients
1 and 1/2 cups of all-purpose flour

1/4 teaspoon of baking soda

1/8 teaspoon of salt

1/8 teaspoon of baking powder

6 tablespoons of butter; softened

1 cup of dark brown sugar

1/2 cup of white sugar

2 eggs at room temperature

1/4 cup of cold strong coffee

1 teaspoon of vanilla extract

1/2 cup of fat-free plain yogurt at room temperature

3 milk chocolate-toffee bars such as Skor or Heath
Method
1. Preheat oven to 325°F. Coat 9-inch round cake pan with cooking spray.
2. Whisk together flour, baking soda, baking powder, and salt in large bowl. Set aside.
3. Beat butter, brown sugar, and sugar with electric mixer until smooth in separate bowl. Beat in eggs one at a time, and then beat in coffee and vanilla extract. Add 1/4 cup yogurt, and beat until smooth. Add half of flour mixture, and beat until smooth. Beat in remaining 1/4 cup yogurt, then remaining flour mixture. Beat 2 to 3 minutes, or until batter is smooth and creamy.
4. Spread batter in prepared cake pan, and bake 35 to 40 minutes, or until toothpick inserted in center comes out clean. Cool 10 minutes.
5. Meanwhile, pulse milk chocolate-toffee bars in food processor 8 times, or until crushed into bits. (Note: I just chopped the bars by hand.) Unmold cake from pan, and set on wire rack. Sprinkle chocolate-toffee bits on top of cake while hot. The chocolate and toffee melt right into the top of the cake. Mmm!
Cool completely before serving.
Source: Vegetarian Times Magazine (May/June 2010)