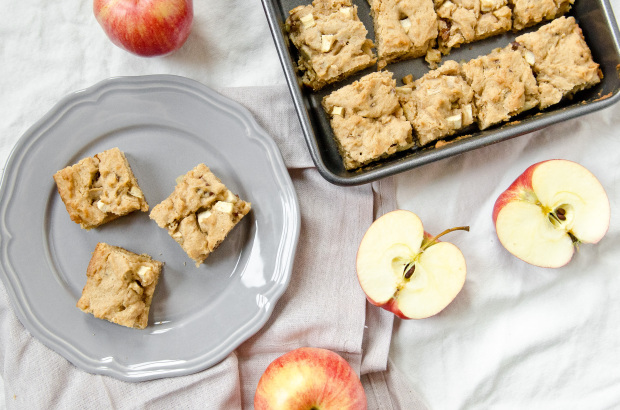 Is it just me or did October come and go in the blink of an eye? I feel like it was just the end of summer and now I'm curled up on the couch watching Elf on TV. Seriously – Christmas movies are already on TV! I'm not complaining though. I love all of the Christmas movies. In fact, I normally watch a Christmas movie every Sunday in November and December. I love the Christmas season and all of the traditions that come along with this time-of-year. I used to put my Christmas tree up on November first when I lived by myself.  But since I got married, I wait until mid-December…mainly to avoid being considered crazy. *haha*
"I'm singing…I'm in a store and I'm singing!" – Buddy the Elf
"Smiling is my favourite!" – Buddy the Elf – "You sit on a throne of lies!"
Beyond Christmas movies, my other favourite seasonal tradition revolves around food. Family Christmas baking sessions. Cookie swaps with Friends. Family holiday dinners. Cocktail parties.  A lot of the recipes I make each year are those that my family has been making for years if not generations. But sometimes I like to come up with new seasonal recipes to change things up a bit such as these Apple Cinnamon Pecan Blondies. They are moist and gooey with the perfect amount of cinnamon and apple. Some buttery pecans are added to the mix for some added texture. These make the perfect treat to enjoy with a cup of pipping hot cup of tea or as a more formal dessert served warm with some coconut ice cream. Yum!
For another seasonal blondie recipe, check out my Pumpkin Pecan White Chocolate Blondies. Wishing you all a wonderful week!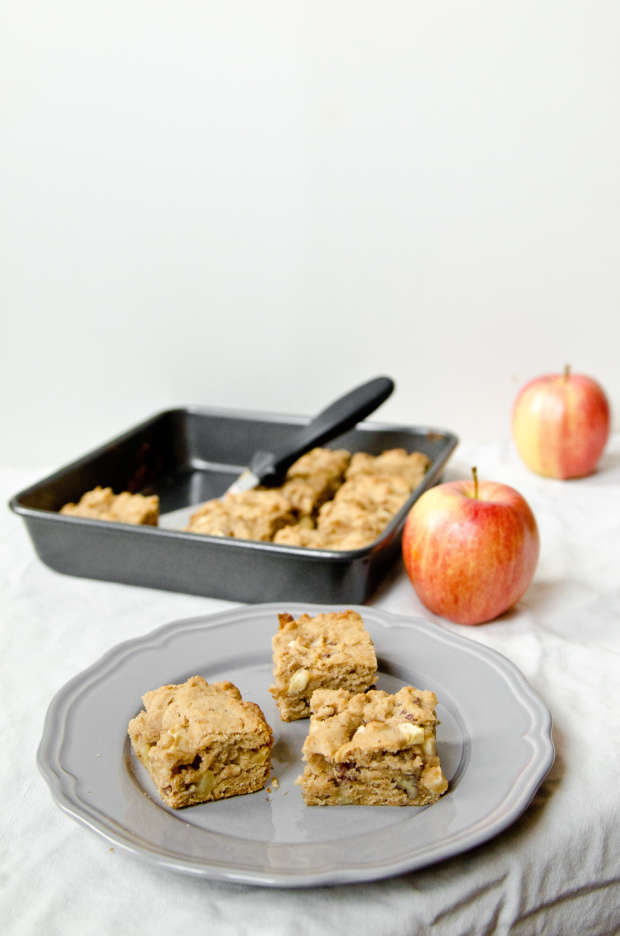 Apple Cinnamon Pecan Blondies
Delicious, moist blondies spiced with cinnamon and dotted with sweet apple chunks and buttery pecans. The perfect treat for fall.
Ingredients
1 and 1/4 cups of unbleached, all-purpose flour
3/4 cup of whole wheat flour
1 teaspoon of baking powder
1/2 teaspoon of cream of tartar
1 teaspoon of ground cinnamon
1/4 teaspoon of salt
1 and 1/4 cup of brown sugar
1/4 cup of pure maple syrup
3/4 cup of vegan butter such as Earth Balance, room temperature
1/2 cup of unsweetened apple sauce, room temperature
1 teaspoon of pure vanilla extract
1 large apple, peeled and diced (about 1 cup)
1/4 cup of chopped pecans
Method
Preheat oven to 350'F. Line a 9x9 inch pan with parchment paper, so that some of the paper hangs over two of the sides.
In a medium bowl, whisk together the all-purpose flour, whole wheat flour, baking powder, cream of tartar, ground cinnamon and salt. Set aside.
In the bowl of a stand mixer, beat together the butter and brown sugar until fluffy. Add in the pure maple syrup, the apple sauce and the pure vanilla extract. Mix until well combined.
With the mixer on low, slowly add in the dry ingredients and mix until incorporated. Fold in the apple pieces and chopped pecans. Spread the batter into the prepared square pan. The batter will be fairly thick.
Bake for 35 to 40 minutes, or until the top is golden and the blondies are pulling from the sides of the pan. A toothpick inserted into the centre of the blondies will also come out clean and/or with a dry crumb.
Allow blondies to cool in the pan for about 30 minutes on a wire cooling rack. Remove from pan using parchment paper edges and cut into 16 slices.
Note: An 8x8 inch pan will also work for this recipe. Reduce baking time to 30 to 35 minutes.
Source: loosely adapted from Foodie Crush