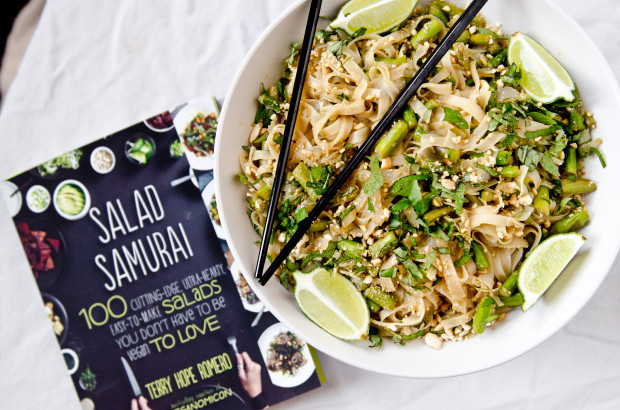 As a huge fan of anything by Terry Hope Romero, I could not wait until the release of her new cookbook Salad Samurai: 100 Cutting-Edge, Ultra-Hearty, Easy-to-Make Salads You Don't Have To Be Vegan To Love. Her previous two cookbooks Vegan Eats World and Viva Vegan are two of my very favourite cookbooks to browse through for inspiration. I love her flavour combinations! They are always so creative and the recipes so flavourful.
In Salad Samurai, Terry presents 100 hearty and easy-to-make salad recipes that focus on wholesome, seasonal ingredients inspired by flavours from around-the-world. In the book's introduction, Terry states "The only thing that we (as in all vegans, vegetarians and even omnivores in favour of meatless meals) must do is rescue salads from their sucktastic reputation as wimpy fare." And this is exactly what she accomplishes in her new cookbook. She presents such well-thought-out salad recipes that could win over vegans, vegetarians and meat-eaters alike! These unique and creative salads are far from wimpy fare!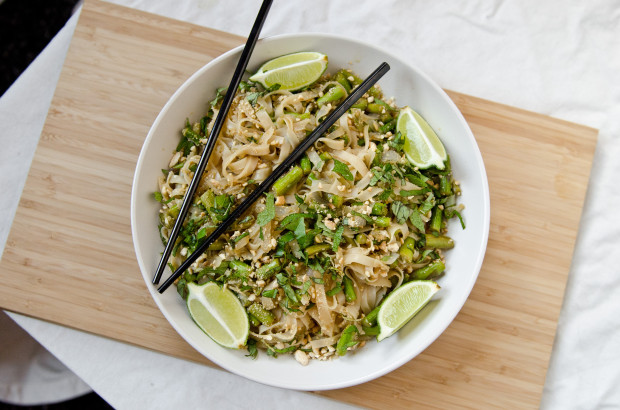 Terry not only presents delicious, hearty salads in this book, she also arms the at-home-chef with an arsenal of delicious homemade dressings & vinaigrettes and creative salad toppings. For instance, I cannot wait to try the Curried Cashew Pepita Crunch topper for my next salad. And the Roasted Hemp Seed Parmesan! The Creamy Maple Mustard Dressing sounds incredible, as does the Green Curry Dressing, the Creamy Cilantro Lime Dressing and the Carrot Chia Ginger Dressing. Yum!
Throughout the book, Terry includes features such as "The Spin" which contains helpful hints for preparing the recipes and "Samurai Stylings" which give suggestions for fun variations of the recipes in her book. She also highlights recipes that are perfect for those following a gluten-free and/or raw diet. The recipes are accessible to everyday at-home cooks. The book is separated into chapters including: Spring, Summer, Fall, Winter and Sweet & Savoury. The layout of the book is really fun and easy to navigate. And as with all of Terry's previous books, the writing is playful and with a good dose of humour.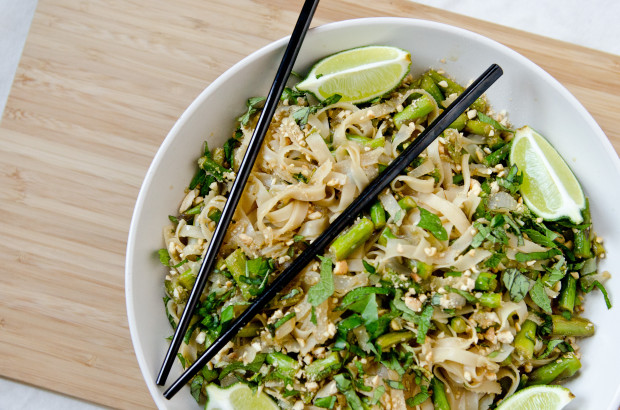 I have already tried a number of recipes from this cookbook including this Asparagus Pad Thai Salad and the Coconut Samosa Potato Salad. Both were easy to make and had great flavour! Both salads will now be in our regular dinner rotation. Other recipes I cannot wait to try:
Gingery Beets & Lentils with Tahini & Agave Nectar
Couscous Salad with Preserved Lemons & Olives
Herbed Pea Ricotta, Tomatos and Basil
Mexican Roasted Corn Salad with Avocado
Blueberry Tamari Greens Bowls
Pesto Cauliflower & Potato Salad
Almond Falafel Crunch Bowl
Backyard Buffalo Ranch Caesar Salad
How amazing do those recipes sound!? Even though salads can be enjoyed year round (as demonstrated in the book), I am really looking forward to trying out many more recipes from Salad Samurai over the summer. Salads are the perfect meal on lazy, hot summer days. I'm thinking picnics, BBQs, and late dinners on the patio. What I love most about this book is that unique, but accessible ingredients are used to make salads really interesting. Terry takes flavours from across-the-globe to inspire her recipes and it really works.
Ingredients
4 ounces of Pad Thai rice noodles
1/2 pound of asparagus
1 cup of mung bean sprouts, washed and dried
1 cup of lightly packed fresh Thai or sweet basil leaves, chiffonaded
1 cup of lightly packed fresh cilantro, coarsely chopped
2 scallions, green part only, thinly sliced
1 recipe of lemongrass tofu (recipe to follow)
1/2 cup of roasted peanuts, coarsely ground
lime wedges and Sriracha for serving

Toasted Shallot Dressing:

1/4 cup of minced shallots
2 cloves of garlic, minced
1 tablespoon of minced fresh ginger
1 tablespoon of vegetable oil
1/4 cup of freshly squeezed lime juice
2 tablespoons of coconut sugar or organic brown sugar
1 tablespoon of tamarind concentrate
1 tablespoon of soy sauce, plus more for serving
1 pound of extra-form tofu (pressed)
2 tablespoons of maple syrup
4 teaspoons of tamari
1 heaping tablespoon of finely chopped or prepared lemongrass
1 clove of garlic, minced
2 teaspoons of peanut oil or olive oil
Method
Prep the Lemongrass Tofu:

Slice the tofu into thin 1/4-inch strips. Preheat the oven to 400'F and coat the bottom and sides of a 13 x 9-inch ceramic or glass baking dish with cooking spray. Combine the maple syrup, tamari, lemongrass, garlic and oil in the baking dish and whisk together. Arrange the tofu slices in the marinade and set aside while the oven is preheating (about 15 minutes). Occasionally stir around the tofu strips. Bake the tofu for 20 minutes. Remove from oven and flip the strips over. Bake another 15 to 20 minutes, until the strips are golden and the marinade is absorbed. Chill for salad.
Boil the rice noodles according to package directions and cook only until al dente (1 to 2 minutes less than directed). Drain, rinse with cold water, and cover with cold water until ready to use.
Wash and trim the tough stem ends from the asparagus. Trim the heads from the asparagus and set aside. Use a Y-shaped peeler to shred the asparagus stalks into long ribbons and slice into thin strips the remaining pieces that are too awkward to shred. Transfer the asparagus ribbons to a mixing bowl and add the mung bean sprouts, basil, cilantro and scallions.
In a skillet over medium heat, fry the shallots, garlic, ginger and oil until the shallots are golden brown (about 3 minutes). Add the asparagus tips, sauté 1 minute, remove from heat and cool for 2 minutes. Transfer the asparagus tip mixture to the bowl with the ribbons. Drain the rice noodles and add to the asparagus salad.
Whisk together the lime juice, sugar, tamarind, and soy sauce and pour over the salad. Toss to coat everything with dressing. Mound the salad in serving bowls and garnish with strips of the Lemongrass tofu and sprinkle with peanuts. Devour, but graciously offer wedges of lime, Sriracha, a small dish of coconut sugar, and soy sauce for dining companions to season their own dish to taste.
Source: Salad Samurai by Terry Hope Romero (reprinted with permission from Da Capo Lifelong, © 2014)
Disclaimer: I received a complimentary copy of Salad Samurai from the publisher. All opinions expressed are my own. Thank you to Da Capo Lifelong for sending me this fantastic cookbook to review. It was an absolute pleasure! 
I have used Amazon Affiliate linking in this post. If you purchase any books using the links in this post, I may get a small proceed from the sale.