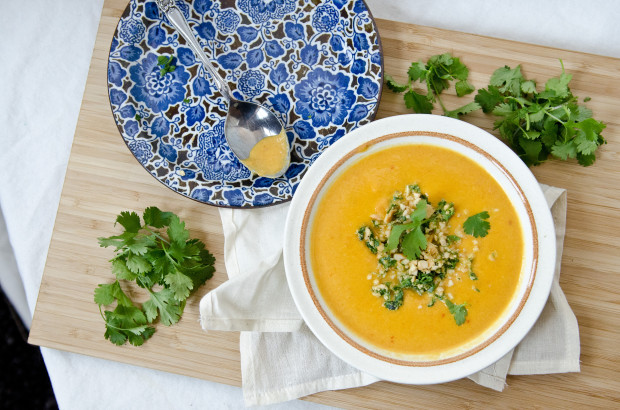 This year for Earth Day, I made a personal goal to reduce the amount of food we waste on a weekly basis. Sometimes it is very difficult to keep an inventory of what's in the fridge and use everything up before it goes bad. When you think about it, every time you allow food to go bad and throw it out, you are literally throwing money into the garbage. Food is not cheap these days. I feel like my grocery bill is ever increasing – especially now that we have switched to all organic fruits and veggies. Wasting less is important in a world where we need things to be more sustainable. Saving money is also a good thing!
To make things easier for myself, I've subscribed to a local weekly organic fruits & veggies delivery (Fresh Option). Each Friday, Fresh Option releases a list of the fruits & veggies that will be delivered the following week. I use the list to help me do my weekly meal plans. I print out the list and put it on the fridge. Throughout the week, I cross off everything that we use. I also highlight things that may go bad quickly and focus on using them first. Organic produce definitely does not last nearly as long, but that's a good thing! It means there is no preservatives and that's a bonus to me! The evening before our next delivery, I consult the list on the fridge once more to see if there is anything I have not used.
Today, I noticed that I had not used the local, organic carrots we got last week. I decided to cook the carrots with some coconut milk and ginger to make a refreshing soup in honour of both Earth Day and the first warm day this spring. I also had some cilantro and limes in the fridge. I decided to make a condiment to brighten up the soup – along the lines of a gremolata. Gremolata is an Italian herb condiment, normally made with lemon, parsely and garlic. However, since I had my heart set on Thai flavours, I made a condiment of cilantro, lime juice and some crushed peanuts (or cashews). The condiment worked perfectly. It was fresh and vibrant – the perfect accompaniment to the carrot coconut soup.
Did you make any personal goals in honour of Earth Day for the following year? I loved this post by Annie at Annie's Eats. She has some great ideas on what we can all do to honour Mother Nature and do our part in protecting and preserving this wonderful place that we call home.
Happy Wednesday! xo
Coconut Carrot Soup with Thai Gremolata
Ingredients
1 medium onion, diced
1 tablespoon of canola oil
1 tablespoon of fresh ginger
1 tablespoon of tamari or low-sodium soy sauce
5 medium carrots, peeled and diced
1 and 1/2 cups of low-sodium vegetable broth
1-14 ounce (400m) can of coconut milk (light is fine)
1 teaspoon of garlic chili sauce or a pinch of red chill flakes
1/2 cup of peanuts or cashews, chopped
large handful of cilantro, finely chopped
juice of one lime (at least a tablespoon)
salt and pepper to taste
Method
In a large saucepan, heat 1 tablespoon of oil over medium-high heat. Add onions and sauté until soft and translucent (about 5 minutes).
Add diced carrots, ginger, soy sauce and chili garlic paste and sauté another 2 minutes. Add broth and coconut milk. Bring soup to a gentle boil then reduce heat to a simmer. Cook until the carrots are soft and flavours well-developed (about 15 to 20 minutes). Season with salt and pepper as needed.
Meanwhile, make the Thai gremolata. Combine the chopped peanuts/cashews, chopped cilantro, lime juice and a pinch of salt in a small bowl.
Once the carrots are fork tender, pour the soup into a blender and purée. Be sure to cover the lid with a tea towel to ensure you do not burn yourself. You could also use a hand immersion blender to purée the soup directly in the pot.
Ladle soup into bowls and top with a tablespoon of the Thai gremolata.
Source: inspired by Better Homes and Gardens