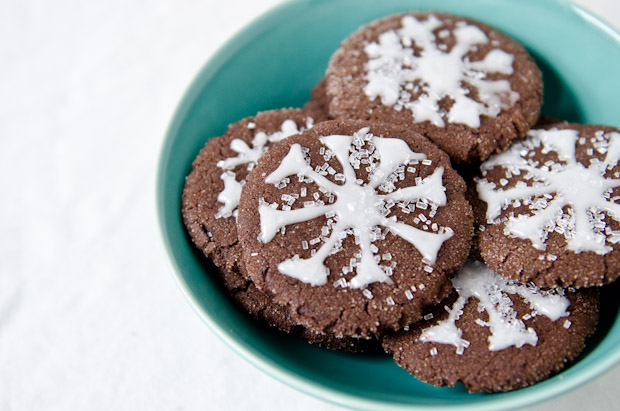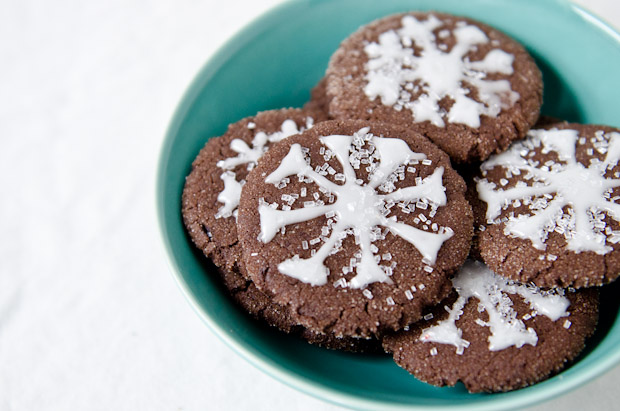 (Chocolate Cinnamon Snowflakes)
Tis the season…for holiday baking! This past weekend, I attended an 8 hour baking course at Red River College. It was a fantastic course designed around learning to bake some holiday classics. We made an assortment of delicious cookies and treats including florentines, Scottish shortbread, minced meat pies, zimtsterne, eilsen lebkuchen and hazelnut macaroons. I learned a lot during the class…including how sore my feet get whilst baking for 8 hours straight. *haha* I was in my glory though, as I got to bake in a real commercial pastry lab and learn a bunch of tips & tricks of the trade. What a wonderful experience! After my holiday baking course, Jesse and I hosted a Christmas potluck with some of very best friends. It was wonderful to see everyone, enjoy some delicious food and great conversation. During dinner, I felt so very thankful for such wonderful friends and for all of our traditions including our annual Christmas potluck.
Speaking of annual Christmas traditions – I started two this week! First, today is my first day of the David's Tea tea advent calendar! Today is "white chocolate frost." Yum! And second, I contributed a cookie recipe for Keepin' It Kind's annual cookie swap party! I love spice cookies and I love chocolate cookies – so I combined my two favs into a chocolate cinnamon cookie! These cookies are crisp on the outside, but gooey in the middle. And they are great for dipping into tea. They are very easy to throw together and freeze really well. In all honesty though, you'll eat them too quickly to have any to freeze. Be sure to stop by Keepin' It Kind to check out my Chocolate Cinnamon Snowflakes recipe and check out the other cookies in the annual cookie swap.