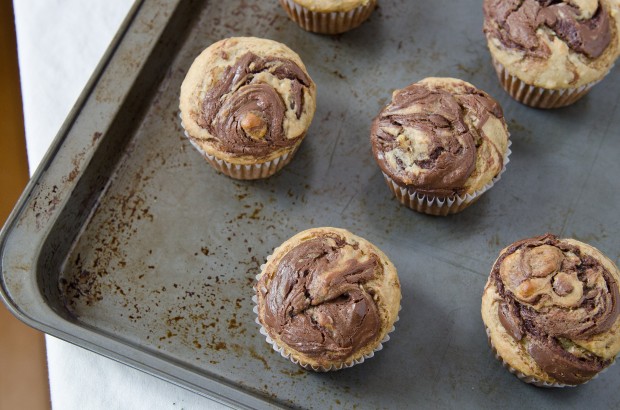 Hello! Today we are taking a short break from our regular scheduled programming of vegetarian food from around-the-world, so I can share this wonderful recipe for Banana Nutella Swirl Muffins. I've been making lists upon lists of globally inspired dishes I want to re-create and make over the next few months to share – but after I saw this recipe for Banana Nutella Swirl Muffins, I knew they had to be the next thing on my cooking/baking bucket list!
After a few days of not feeling well, I finally felt up to spending some time in the kitchen this morning. I decided to give these muffins a try as a treat for Jesse. My mom had so kindly sent some homemade banana bread home with us last Sunday….and I ate the last piece mid-week. For a while there, I did not think Jesse would ever forgive me! *haha* So, I made these muffins to make amends :) I mean, you cannot stay mad at a girl offering you freshly baked muffins! *hah* Thankfully Jesse was willing to share some of these muffins with me. The muffins themselves taste like deliciously moist banana bread, but with a decadent swirl of Nutella on top. Really….what's not to love!? I loved how easy these muffins were to whip up. And they were the perfect excuse to use up some bananas going brown on the counter.  It's somewhat of a blessing that the recipe only made 12, because I could see eating a whole half dozen in one sitting! Alas…I've learned my lesson though. I'll leave the last muffin for Jesse :)
I'll be back in a few days with a delicious pot pie recipe inspired by my mom. Happy weekend everyone! :)
Banana Nutella Swirl Muffins
Ingredients
2 cups of all-purpose flour
1 teaspoon of baking powder
1 teaspoon of baking soda
1/2 teaspoon of salt
4 over-ripe bananas, mashed
1/2 cup of sugar (or vegan white sugar)
1/2 cup of packed brown sugar
1 egg (or 1 flax egg)
1/4 cup of canola oil
2 teaspoons of pure vanilla extract
Nutella (or vegan chocolate hazelnut spread)
Method
Preheat oven to 350'F. Prepare a muffin tin with liners and set aside.
Combine the flour, baking powder, baking soda and salt in a medium sized bowl. Whisk to combine ingredients well.
In a separate bowl, combine the mashed banana, sugar, brown sugar, egg, canola oil and vanilla extract.
Slowly pour the dry ingredients into the wet ingredients whisking until there are no lumps. Do not over mix.
Fill muffin tins 3/4 full. Top each muffin with a teaspoon of Nutella. Using a toothpick, swirl the Nutella into the muffin batter.
Bake muffins for 17 minutes, or until a toothpick inserted in the middle comes out clean and/or with dry crumbs.
Note: I poured a little extra batter into each muffin cup and baked them 19 minutes. This yielded 12 medium-large muffins.
Source: The Novice Chef