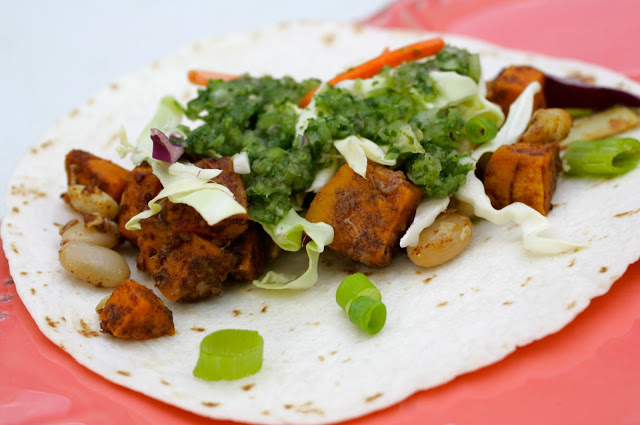 Today, I'm excited to have Beth from
Bake It + Make It with Beth
doing a guest post on The Fig Tree for
Vegan Tuesdays
. She's a girl after my own heart, as I'm a sucker for both sweet potatoes and Mexican flavours. Beth is a Marylander and lives with her husband Greg. She is currently going to school for her Masters in Elementary Education and Special Education. In addition to blogging, she enjoys sailing on the Chesapeake Bay and playing Scrabble with her hubby. She's also incredibly sweet and it's been a pleasure getting to know her through emails the past few weeks.
 Her blog is a wonderful space with a ton of delicious recipes. Be sure to check it out :) Out of curiosity, I asked Beth what inspired her to start a cooking blog.  I'm always interested in what inspires people to share their passion with others. Turns out she was volunteered to start a cooking blog for a start-up online newspaper. At first she was not too sure about running a cooking blog as she still felt like an amateur in the kitchen , but she soon found that she enjoyed blogging about food. After blogging for the paper, she started finding that there were some things that she wished she could do differently. For instance, she could not make decisions about layout or connect with other food bloggers around the world as much as she would have liked. So, she started her own blog! On her blog, you'll find some healthy recipes, some indulgent recipes and many tasty treats. Beth says her blog is the best way to document the recipes she loves and a nice way to unwind and have fun.
And without further ado, here is Beth…
Last February, my co-workers and I won a Carnaval photo contest that was being sponsored by Paladar Restaurant. The special education team at Crofton Middle School received the most Facebook likes to win the contest! The prize was a $500.00 gift card to the restaurant. After winning the contest, I went there for dinner and I ordered the sweet potato tacos. They were pretty incredible! Since I had communicated with the PR/marketing manager after winning the contest, I contacted him to see if Paladar would be willing to share their recipe for the blog. And, they were nice enough to share! I have made these sweet potato tacos several times since then. It is a fairly healthy meal that everyone seems to enjoy (even kids)! If you cannot find tomatillos, you can used jarred tomatillo salsa with an extra squeeze of lime juice. Hearts of palm might also be hard to find, but they add a nice touch. They can be omitted from the recipe if you cannot find them. Enjoy!
Tomatillo Salsa Ingredients
6 fresh tomatillos, husked
1/4 bunch of fresh cilantro
1/2 small red onion or 1 thinly sliced jalapeño pepper
juice of one lime
Sweet Potato Filling Ingredients
1 and 1/2 tablespoons of extra-virgin olive oil, divided
2 large sweet potatoes, peeled and diced into 1/4 inch cubes
4 hearts of palm stalks from a can, cut lengthwise and sliced
1 can of great northern beans (white beans)
salt and pepper to taste
2 teaspoons of cinnamon
For Topping + Assembly
shredded red cabbage or other shredded cabbage mix
chopped chives
8-6 inch soft shell tortillas
Method
1. Tomatillo Salsa: Place the tomatillos, cilantro, and onion (or jalapeno) in the bowl of a food processor. Pulse until it becomes the consistency of a nice salsa. Pour into a bowl and add lime juice. Cover and place in the fridge for an hour for flavours to marinate together.
2. Preheat oven to 350'F.
3. In a bowl, mix together the sweet potatoes, hearts of palm, 1 tablespoon of olive oil, salt and pepper. Place the potato mixture onto a foil-line baking sheet. Spread potatoes in an even layer and bake for 25 to 30 minutes, or until the potatoes are fork tender.
4. Put the remaining olive oil into a large skillet. Heat the oil over medium-low heat, then add the cooked potatoes and bean in the skillet. Add in a little salt, pepper and the ground cinnamon. Sauté until the beans are warmed through. Heat the tortillas in the microwave for 25 to 30 seconds on low.
5. Have fun building your own tacos. Put the sweet potato mixture in the middle of the tortilla, top with cabbage, chives, and tomatillo salsa. Fold and enjoy!