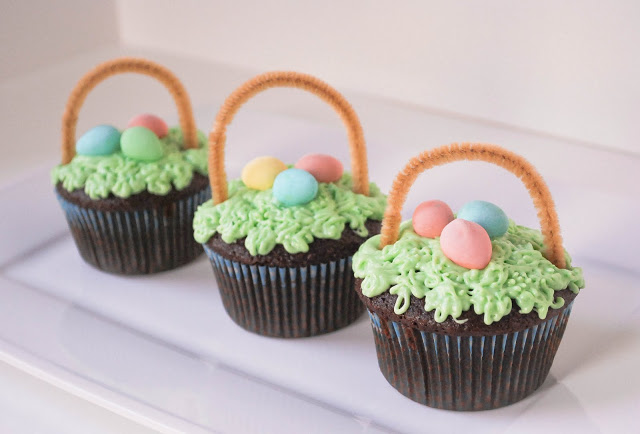 Every year for the past 5 years, I've made these cute little easter basket cupcakes. I think they are adorable! I normally make them for my family and bring them to Easter dinner. Although Easter dinner is not until next week, I made a batch of these cupcakes today to give to a good friend of mine. I hope she likes them! I think that these cupcakes are the perfect little easter treat. And, for those of you with kids, this is an easy & fun recipe you can make as a family. The results are delicious!
Ingredients
3/4 cup unsweetened cocoa powder
1 1/2 cups all-purpose flour
1 1/2 cups sugar
1 1/2 teaspoons baking soda
3/4 teaspoon baking powder
3/4 teaspoon salt
2 large eggs
3/4 cup warm water
3/4 cup buttermilk
3 tablespoons canola oil
vanilla icing tinted green (use store bought icing or try this recipe)
Cadbury Mini Eggs
12 standard pipe cleaners (brown works best); cut in half
Method
1. Preheat oven to 350°. Line standard muffin tins with paper liners.
2. Sift cocoa powder, flour, sugar, baking soda, baking powder, and salt into a large bowl. Add eggs, warm water, buttermilk, oil, and vanilla, and mix until smooth.
3. Divide batter among muffin cups, filling each 2/3 full. Bake until tops spring back when touched, about 20 minutes. Transfer cupcakes to wire racks, and let cool. Cupcakes will keep, covered, for up to 3 days.4. Make frosting if you will be using the homemade kind. I like to make homemade icing, as it always tastes better than the store-bought kinds. However, in a pinch, store bought icing works well. I also recommend that you colour the icing using a gel paste and not liquid food colouring. The gel paste allows for stronger, bolder colours and does not add liquid to your icing & make it runny. You can find the gel pastes at places like Michael's (craft store).
5. Frost the cupcakes with the green icing. In order to make the icing look a little like easter grass, I used a decorating tip like this one. Place 3 Mini Eggs on the top of each cupcake. Curve the pipe cleaners into a basket handle and stick right into the cupcake. And voila….adorable easter basket cupcakes!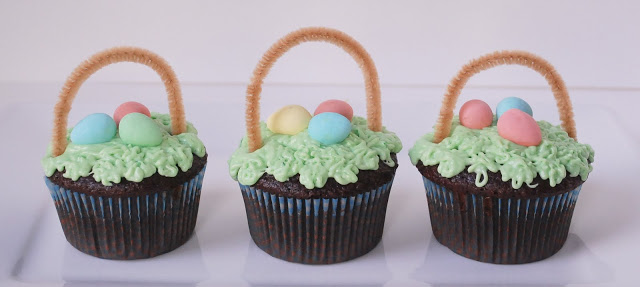 Source: cupcake recipe from Martha Stewart; cupcake design adapted from a cake decorating course I took a few years back.