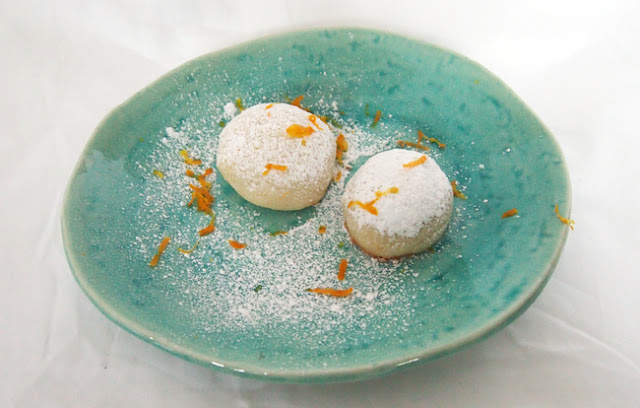 It may be Sunday and the dreaded Monday is nearing quickly. *pouts* But in an effort to make Monday a bit more tolerable, I present to you a fantastic guest post from my cousin Liz. These cookies will undoubtedly sweeten up the beginning of your work week. Liz has a wonderful blog called Edge + Vertex. She writes about all sorts of great stuff including her daily life, her favourite fashion finds, crafts….and baking! :) She's utterly adorable and you cannot help but fall in love with her through her blog. She's seriously cool. I am so very happy my cousin decided to marry this great girl and officially make her apart of the family. xoxo
Make sure to check out Liz's blog and leave her a comment or two. Without further ado…here's Liz!
I like baking. I really do. But as I have stated many times on my blog, I am exceedingly lazy. I just thought of something…I would be a way more interesting person if I were less lazy…huh…
But, I digress. I like baking, and Christmastime is the time when I roll up my sleeves and get the job done. Although, it's usually a 12 hour stint (often ending at 3 in the morning…), I really enjoy my time since I make an event out of it. I watch/listen to some awesome Christmas movies and music, and I just putter about, creating stuff.
This year, I made orange-scented snowballs, amongst other delightful delicacies. They are very easy to make and even easier to eat! I would recommend having them with a cup of Earl Grey tea flavoured with a hint of lemon and sugar.
Ingredients
1 cup of unsalted butter, at room temperature

1/2 cup of confectioner' sugar (icing sugar)

1/2 teaspoon of orange extract or 2 teaspoons of finely grated orange zest

1/8 teaspoon of salt

2 cups of all-purpose flour

3/4 cup of sifted icing sugar for rolling/topping
Note:
Real orange zest is the surest way to go for the best flavour. You may want to use more than 2 teaspoons if you want a stronger orange flavour.
Method
1. Preheat the oven to 350'F.
2. In a large bowl, beat together the butter, 1/2 cup of icing sugar, the orange extract (or zest) and salt until smooth/creamy with an electric mixer. 
3. On low speed, beat in the flour just until the dough is mixed. Dough will be medium-stiff.
4. Pinch off pieces of the dough and roll between your palms into 1 inch balls. Place cookies on an ungreased cookie sheet, spacing them about 1 1/2 inches apart.
5. Bake in the centre of the oven until the tops are set to the touch and the bottoms are slightly golden (10 to 12 minutes). Let the cookies cool on the cookie sheets until they are warm, but firm enough to handle without crumbling.
6. Spread the 3/4 cup of sifted icing sugar on a plate. Roll the warm cookies in the sugar, coating them evenly. Set cookies on wire cooling racks. When the cookies have cooled completely, roll them in sugar again.
Note: Now, maybe I'm bad at baking (that is a definite possibility), but I did not like the result of rolling the cookies. What I did instead was wait until I was ready to package the cookies and then I just dusted them with icing sugar and a bit of orange zest. 
Source: Very Merry Cookie Party (Grunces + Van Vynckt)