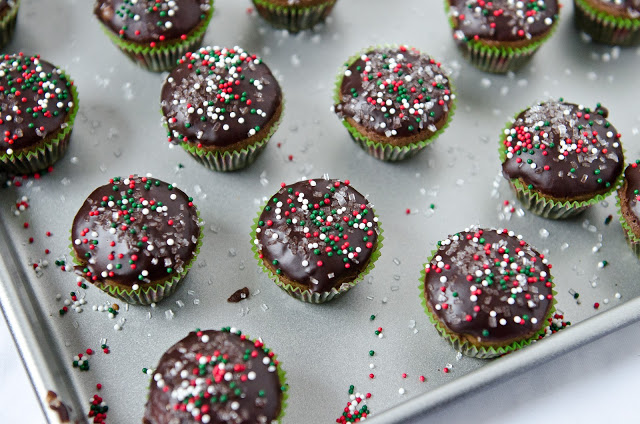 Only four more sleeps until Christmas! I cannot believe it. Today, I am off to pick up the last of the presents, do some wrapping and get my Christmas grocery shopping done. I will be hosting Christmas dinner for my family on Sunday. After a week of debating, I think I've finally settled on my vegetarian christmas menu. And I'm so excited to get cooking!
But first, I need to finish the last of my Christmas baking! I'll be making a trifle and a cheesecake at some point in the next two days. Tis the season for a sugar overdose!
If you are looking for an easy dessert to bring to a Christmas dinner or party over the next few days, I highly urge you to give these a shot! If you like chocolate, coffee and a little Irish Cream liqueur, then you won't go wrong with these adorable and delicious brownie bites. I brought these to my work Christmas party yesterday and they got great reviews. They have a chewy exterior and a soft, gooey centre. The Irish Cream ganache is extra yummy – so yummy that I wanted to drink the ganache! *hehe*
Wishing you all a wonderful Christmas. May it be merry + bright! xo
Brownie Ingredients
4 ounces of semisweet chocolate, chopped

1 ounce of unsweetened chocolate, chopped

1/2 cup of unsalted butter, cubed

1 cup granulated sugar

2 teaspoons of pure vanilla extract

2 eggs

1/2 cup of all-purpose flour

2 teaspoons of instant espresso powder

1 pinch of salt
Irish Cream Ganache Ingredients
2 ounces of semisweet chocolate, chopped

3 tablespoons of whipping cream (35%)

1 tablespoon of butter, softened

1 tablespoon of Irish cream liqueur
Method
1. Preheat oven to 350'F. In a saucepan, melt together the semisweet chocolate, unsweetened chocolate and butter over medium-low heat, stirring occasionally. Let cool for 10 minutes.
2. Once chocolate is cooled, whisk in the sugar and the vanilla. Next, whisk in the eggs, one at a time. With a wooden spoon, stir in the flour, espresso powder and salt. Mix until just combined.
3. Spoon batter by tablespoonful into a paper-lined mini-muffin tin. Bake in 350'F oven for 18 minutes, or until cake tester inserted in centre comes out with a few moist crumbs. Let brownies cool in pan on a wire rack.
4. Ganache: In a small saucepan, melt the chocolate and cream over low heat, stirring occasionally, until smooth. Whisk in butter and liqueur; let ganache cool for 15 minutes.
5. Dip the tops of the brownies into the ganache. Cover brownies loosely and refrigerate until set, about 30 minutes. Note: Make Ahead – layer brownies between waxed paper in airtight container and refrigerate for up to 3 days or freeze for up to 2 weeks.
Serve brownie bites at room temperature for best results.
Yield: 24 brownie bites
Source: Canadian Living Magazine January 2013