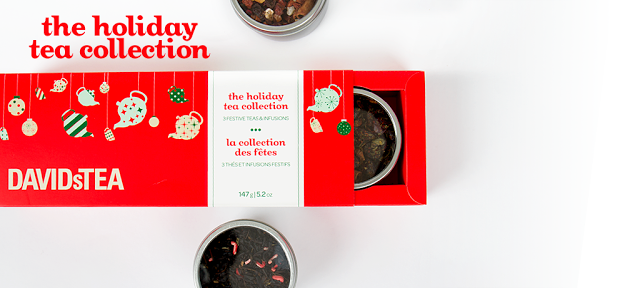 I don't think it's any secret to anyone who reads The Fig Tree regularly that I love David's Tea 
– a Canadian chain that has the best tea selection and sells lots of neat tea paraphernalia. And it sounds like a lot of you love David's Tea too! In my last post, I mentioned how excited I am to use my David's Tea advent calendar throughout the month of December. A new tea every day for 24 days – very fun! A lot of you contacted me to see where you could find your own tea advent calendar. After doing some research, I found the David's Tea online is sold out of the calendars. And it appears a lot of the stores are too! 
But, in the spirit of the holidays, I thought you should not have to go without. So, I am doing a giveaway! The David's Tea Holiday Tea Collection in fact! The holiday collection has three different festive teas: Santa's Secret (a black tea with peppermint and mini candy canes), Sleigh Ride (an herbal tea with cinnamon, apple, pop corn, almond, raisins and coconut) and Merry Cranberry (a green tea with cranberry, apple, mistletoe leaves and blackberry leaves). I've tried all of these teas and they are wonderful. Sleigh Ride tastes like a delicious apple cider! Elf Help and Alpine Punch are my other two holiday favourites. A perfect blend of holiday teas to say thank you and happy holidays to my wonderful readers. xo
How can you enter to win? Please just leave a comment telling me about one of your favourite holiday traditions. One of my favourite holiday traditions is Christmas baking with my mom and my sister. We always pick a new cookie recipe to try and then make our standards – shortbread and gingerbread men. 
The winner will be announced on Friday, December 7, 2012 at 6PM CST. Two winners up will win a David' Tea christmas ornament filled with festive tea.
Good luck and happy holidays! Wishing you all a wonderful December.