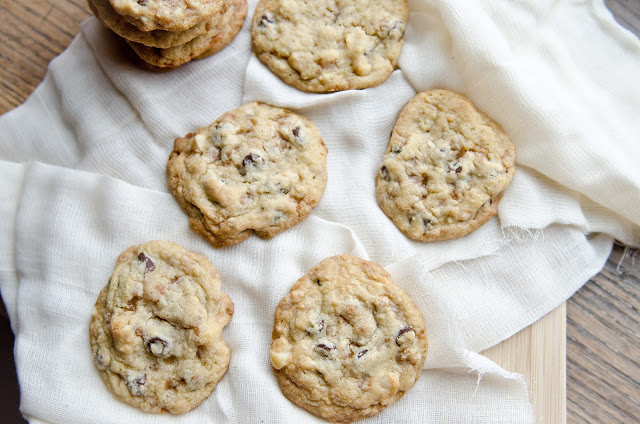 Oh dear…these cookies are good. They are perfectly chewy with crunchy macadamia nut pieces, toffee bits and chocolate. Mmmm! These cookie are a little too good to be honest. I ate a a few too many this past week. I brought some to my parents and they reported the same thing. It seems as these cookies have a magical power – they cause you to lose all ability for portion-control. *hehe* I made these cookies with the intention of freezing 2 dozen to have on hand during the week of Christmas to serve to guests, but they did not last long enough for any to be saved. This is a true sign that this recipe is a keeper and will likely become my standard chocolate chip cookie recipe. 
I hope you are all having a great week! Tomorrow is my Friday! Jesse and I both decided to take Friday off, so that we could go for brunch, do some Christmas shopping and get our Christmas tree. I think we'll cap the day off with some hot chocolate and Baileys. Yum :)
ps. My apologies that my last few posts have been far from healthy. Tis the season! :) I'll be back this weekend with a healthier recipe which frankly I need after polishing off a dozen cookies this week.
Ingredients
1 cup of unsalted butter, softened

1 cup of packed brown sugar

1/2 cup of granulated white sugar

2 eggs

1 teaspoon of pure vanilla extract

2 and 1/2 cups of all-purpose flour

1 teaspoon of baking soda

1/4 teaspoon of salt

1 cup of semi-sweet chocolate chips

3/4 cup of macadamia nuts, toasted and then coarsely chopped

1/2 cup of toffee bits
Method
1. Pre-heat oven to 350'F. In a large bowl, with an electric mixer, beat together the butter, brown sugar and granulated sugar until light and fluffy. Beat in the eggs one at a time beating well after each addition. Beat in the vanilla extract.
2. In a separate bowl, whisk together the flour, baking soda and salt. Gently mix the dry ingredients into the wet ingredients until just combined. 
3. Stir in the chocolate chips, macadamia nuts and toffee bits.
4. Drop dough by rounded tablespoon onto a parchment-lined baking sheet. Note: I baked 12 cookies per sheet. 
5. Bake in 350'F oven until the edges are slightly golden (about 12 minutes). Let the cookies cool on pan for 5 minutes then transfer cookies the a wire rack to cool completely.
Baked cookies can be stored in an air-tight container for up to 5 days. The dough can also be portioned out and frozen to thaw and bake another day.
Yield: 45 cookies
Source: Canadian Living Magazine December 2012