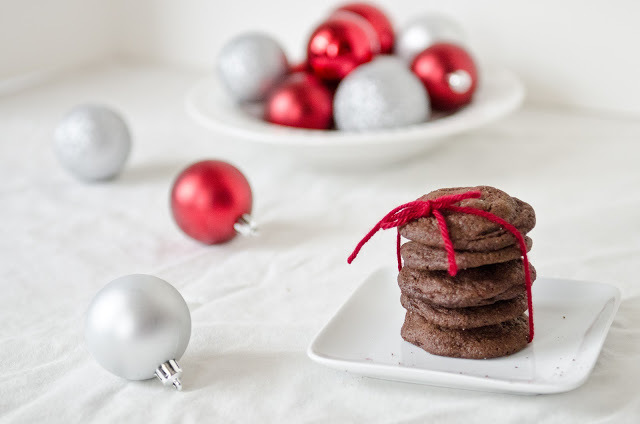 Well, it seems as though the Christmas/Holiday season is now upon us. Snow is covering the ground here (and its's super cold), the Christmas lights are lit downtown, Starbucks is selling gingerbread and eggnog lattés, Christmas music is dominating my music rotation, and I've actually started Christmas shopping! This weekend, we are hoping to pick up a tree and decorate the condo. And, tonight I watched the tree lighting ceremony at Rockefeller Centre on TV. Oh, how I miss NYC!
Back in late October, Jesse and I were in NYC for a week-long vacation. While there, we made a few stops at Magnolia Bakery for a treat. Cookies are always my treat of choice. I really don't discriminate when it comes to cookies, as I love them all. But I am likely to choose a cookie with chocolate over other options. The cookies at Magnolia Bakery are delicious – specifically these chocolate cookies. In order to re-create the Magnolia Bakery cookies at home, I picked up a copy of the Magnolia Bakery Cookbook while in NYC. I also bought my mom a copy, as I know how much she loves to bake. Thankfully, this past weekend, mom whipped up a batch of these yummy double chocolate drop cookies for me. (Boy, am I glad I bought her a copy of the cookbook!) And to be honest, I ate 12 cookies in less than 48 hours. Oops!
These cookies are perfect to make for the holiday season, as they are easy to throw together and freeze really well. They are perfectly chocolatey with a nice crisp texture. They are ideal for dipping in a glass of milk or hot cup of tea. They would be really nice to include in a Christmas cookie exchange or to include on a dainty platter over the holidays.
On a side note, I am SO excited to start my advent calendar on Saturday! Jesse and I both bought the tea advent calendar from David's Tea. It's so cool! Every day during the month of December, you get a new type of tea to try. Varieties include Cream Caramel, Cocoa Chai Rooibos, Sleigh Ride, Creme Brulée, Alpine Ski, Merry Cranberry and Santa's Secret. I look forward to a new surprise every day! I just hope this does not cause my David's Tea addiction to grow. Hmmm….
Ingredients
1 cup of all-purpose flour

6 tablespoons of unsweetened Dutch process cocoa powder

1/2 teaspoon of baking powder

1/4 teaspoon of salt

5 tablespoons of unsalted butter, softened

5 tablespoons of solid vegetable shortening

1 cup of granulated white sugar

1 tablespoon of granulated white sugar (for sprinkling)

1 large egg, at room temperature

1 teaspoon of pure vanilla extract

1/2 cup of miniature semisweet chocolate chips
Method
1. In a small bowl, combine the flour, cocoa, baking powder and salt. Set aside.
2. In a large bowl, cream the butter, shortening and sugar until smooth (about 3 minutes). Add the egg and vanilla. Beat well.
3. Add the dry ingredients to the wet ingredients and mix thoroughly. Stir in the chocolate chips.
4. Preheat oven to 350'F. Drop rounded teaspoonfuls of dough onto an ungreased cookie sheet leaving several inches between for expansion. Sprinkle lightly with sugar. Place the cookie sheets in the refrigerator and chill the dough for 20 minutes.
5. Bake cookies for 10 to 12 minutes. Cool the cookies on the baking sheets for 5 minutes and then transfer to a wire rack to cool completely.
Yield: 2 dozen cookies
Source: The Complete Magnolia Bakery Cookbook by Allya Torey and Jennifer Appel