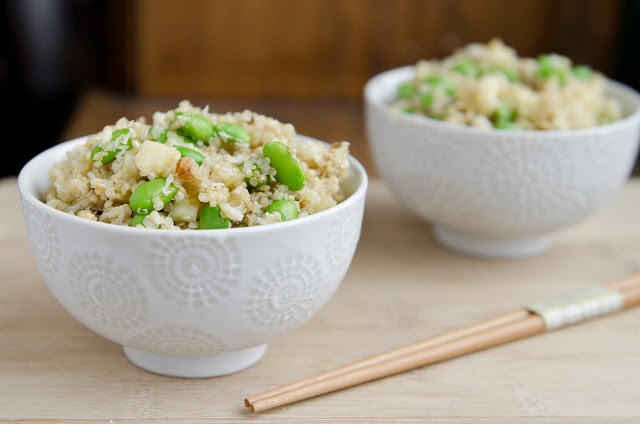 Hello! Hope you all had a wonderful long weekend! Our weekend was pretty quiet, as we are both just getting over a flu bug. Plus, we got a large amount of snow here on the Canadian Prairies on Saturday. It's very much starting to look like Christmas around these parts! And I'm not complaining. I love snow…until January. :) Then I could easily be rid of it! Sadly, it often does not leave here until April. *hah*
Yesterday, Jesse and I went to see the new James Bond movie and loved it. It's highly entertaining with a good story-line. After the movie, we watched some football with my dad (sadly, the team we were cheering for is out of the playoffs…*pouts*) and then we had an awesome dinner put together by my mom. She made a huge selection of Asian-inspired food including a teriyaki vegetable stir fry, spring rolls and a pineapple rice dish. Delicious!
Speaking of delicious, this coconut ginger quinoa salad with apples is one of my all-time favourite salads. The ginger and coconut really make this dish special. So simple, but so flavourful! It's also one of my favourite things to make to bring for lunch during the work-week. It's incredibly filling as a salad, but also doubles as an excellent filling in wraps along with some fresh veggies. 
When I first started blogging, I posted this delicious salad on The Fig Tree. But the post seems to have been lost in the archives – rarely to be seen. What a shame, since this is really a delicious, nutritious salad with tons of protein and fibre. Plus, it's vegan! So, I thought I'd resurrect this yummy recipe for this week's Vegan Tuesday post along with a new photo. It's a nicely balanced light salad that can offset all of rich foods that we indulge on at this time of year.
Hope you have a fantastic week. I'll be back in a few days with another new recipe. I'm thinking something sweet! :)
1 and 1/2 cups of vegetable stock

1 cup of quinoa; rinsed well

1 to 2 tablespoons of freshly grated ginger

salt and pepper to taste

1 apple; diced

1/3 cup of unsweetened shredded coconut

1 cup of frozen shelled edamame

1/2 cup of blanched almonds or sliced almonds
Method
1. Toast the almonds in a saucepan over medium heat for about 3 minutes; or until the almonds are fragrant and slightly golden. Ensure you stir often while the almonds toast, so you do not burn them. Note: you need not add any oil to the saucepan to toast the almonds, as they release their own oils as they brown. Remove almonds from the pan and set aside.
2. In a medium saucepan, add the vegetable stock, grated ginger and some salt and pepper to taste. Add the rinsed quinoa and bring the mixture to a boil. Once at a rolling boil, reduce the heat to low and simmer, covered, for 10 minutes.
3. Once the quinoa has cooked for 10 minutes, remove from heat and add the frozen edamame. Allow the mixture to stand for 5 minutes; covered. This will allow the edamame to defrost and cook slightly.
4. Remove the lid and allow the mixture to cool. Add the apples, almonds and shredded coconut. Serve at room temperature.
Yield: 4 to 6 servings
Source: recipe adapted from Vegetarian Times March 2010