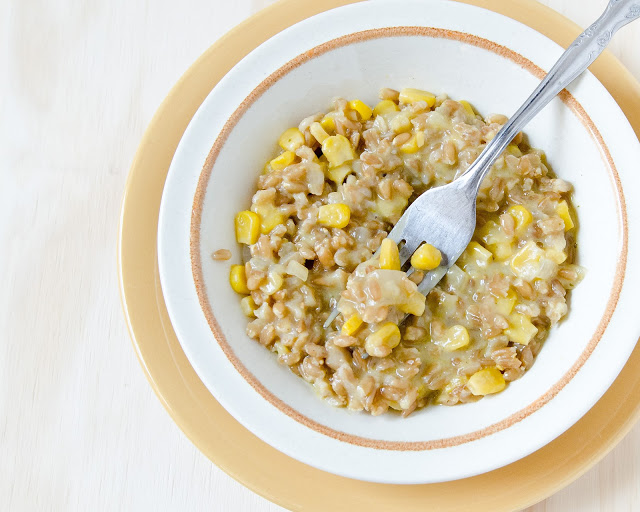 Hello, and happy Vegan Tuesday! I don't know about you but I love when the work-week starts on a Tuesday. The weekend seems that much closer! We don't have a lot planned for the upcoming weekend, but I always appreciate the weekend and the ability to sleep in! *hah* I am hoping to make it to the local farmer's market this upcoming weekend, as I heard that there will be an abundance of squash, carrots, potatoes etc. I hope to find some acorn and butternut squash to roast. I've missed fall vegetables. However, I should not jump the gun just yet! Summer certainly has not disappeared from the Canadian Prairies. It's still be quite hot here – although, some leaves have started to change colour. Fresh corn is still in abundance and as sweet and delicious as ever :)
For the first Vegan Tuesday post, I'd like to share a delicious vegan side-dish that I tried last week after I picked up some fresh local corn. We enjoyed this corn farroto along side a simple side salad. A really delicious, light meal. Fresh corn is simmered with vegetable broth and sautéed onion, then puréed to make a nice sauce. The corn releases its starch which lends a nice creamy texture to the purée. The fresh corn purée is then added to cooked farro with fresh corn kernels – topped with some fresh cherry tomatoes and basil. This dish really does celebrate some of summer's best – fresh corn, cherry tomatoes and aromatic basil. A really nice way to end the summer produce season.
See you again on Thursday when I'll be sharing another delicious recipe to celebrate the best of end -of-summer produce. Have a fantastic day!
Please be sure to check out Destini's first Vegan Tuesdays post where the whole idea for Vegan Tuesdays is introduced. She even has a nifty badge you can add to your blog if you'd like to participate in Vegan Tuesdays with us! The more the merrier :)
Corn Purée Ingredients
1 and 1/2 cups of fresh corn kernels

1/2 cup of minced onion

1 tablespoon of olive oil

fin sea salt to taste

2 cups (or more) of vegetable broth
Farrotto Ingredients
2 cups (or more) of vegetable broth

1 cup of regular semi-pearled farro; rinsed

fine sea salt to taste

3 tablespoons of olive oil

1/2 cup of minced onion

1 cup of fresh corn kernels

2 tablespoons of nutritional yeast or 1/2 cup of vegan Parmesan cheese

freshly ground pepper to taste

1/2 cup of chopped cherry tomatoes

2 tablespoons of chopped fresh basil
Corn Purée Method

1. Combine the corn, onion, oil and a pinch of salt in a medium saucepan. Cook over low heat, stirring occasionally, until the onion is softened and translucent (7 minutes). Note: Make sure you don't brown the onions.

2. Add 2 cups of vegetable broth and increase the heat to high. Bring the mixture to a boil. Reduce heat to medium-low and summer gently, uncovered, until the corn is softened and cooked through and liquid is reduced by half (about 20 minutes). Allow the mixture to cool slightly.

3. Transfer mixture to a blender and purée until smooth. Note: Make sure to start with the lid slightly ajar to release the steam and cover with a kitchen towel to catch any splatters.

4. Strain the purée through a sieve into a 2 cup heatproof measuring cup. Add more broth, if needed, to measure 1 and 1/3 cups. Set aside.

Farrotto Method

1. While your corn purée is cooking, bring 2 cups of vegetable broth, rinsed farro, a pinch of salt and 1 cup of water to a simmer in a large saucepan. Cook until the farro is tender (about 30 minutes). Drain the farro and return to pot.

2. Meanwhile, in a large skillet, heat oil over medium heat. Add second half onion and cook until just beginning to soften (about 3 minutes). Add the 1 cup of corn and cook, stirring occasionally, until the vegetables begging to brown (about 5 minutes). Keep warm.

3. Add the corn purée to the farro and cook over medium heat, stirring occasionally and adding more broth by 1/4 cupfuls if farrotto begins to become dry. Cook for about 5 minutes, or until the farrotto is very creamy. 

4. Stir in nutritional yeast or vegan Parmesan cheese. Season with salt and pepper. Stir in the fresh basil.

5. Divide farrotto among bowls. Top with diced cherry tomatoes. Serve immediately.

Source: adapted from Bon Appétit Magazine: September 2012