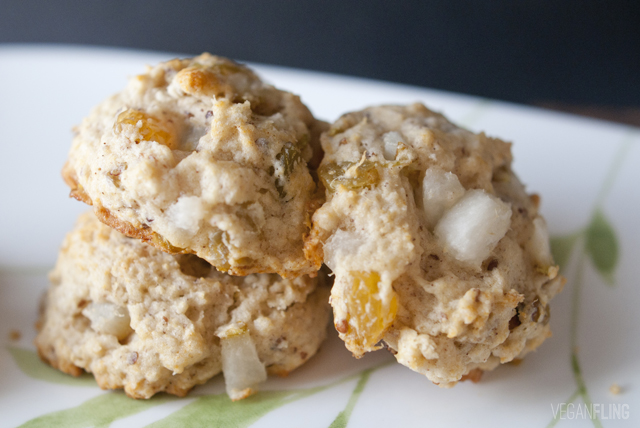 Happy Vegan Tuesday! I am pretty excited for Vegan Tuesday this week, as my friend Melissa from VeganFling has been kind enough to be the first to do a guest post for Vegan Tuesdays. And what an awesome recipe she has chosen to share with us! I don't think it's any secret to those of you who read The Fig Tree on a regular basis – I LOVE COOKIES! So, when Melissa sent me the recipe she'd be sharing and I saw she would be sharing a cookie recipe, I was elated! These cookies look incredible – bursting with flavours of fall. I adore pear, but never thought to include chopped pears in cookies. Genius!
I think that this recipe is ideal for those trying to learn how to bake with vegan ingredients. It proves that vegan baking does not need to be difficult or require obscure, hard-to-find ingredients. It proves that delicious, flavourful dairy-free cookies can be made in no time flat!
Melissa is a true inspiration. I always look forward to her posts and follow VeganFling religiously! You should too! You won't be disappointed :) I am so honoured that Melissa has shared this awesome recipe today on The Fig Tree. I hope she shares another recipe or two on The Fig Tree in the future. It's been lovely to have her contribute to Vegan Tuesdays. Thanks Melissa! I cannot wait to make this incredible looking cookies!
You can also follow VeganFling on Facebook and Twitter.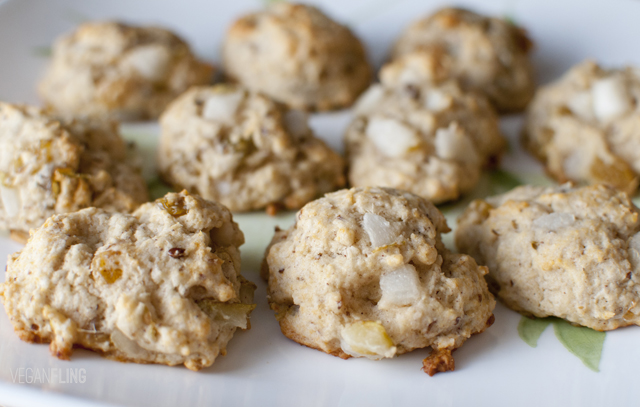 Hello Fig Tree readers! Thanks for having me over today. I am a long time admirer of The Fig Tree Blog and Courtney's delicious recipes, but I was extra excited when she announced her new feature: Vegan Tuesdays! In my opinion there can never be too many vegan recipes, and if what we've seen so far from Vegan Tuesdays is a good indication, I think we are in for many, many more amazing recipes from Courtney.
For me, one of the most daunting things about eating vegan was re-learning how to bake. Well, now I'm a total vegan baking machine and If I can do it, anyone can. It's really very easy!
I thought I'd share this fun fall cookie recipe today in hopes you'll try some vegan baking for yourself. I hope you like it!

Ingredients
1 and 1/4 C flour of your choice

2 tsp baking powder

1/2 tsp baking soda

1/2 tsp cinnamon

 

1/2 C golden raisins

1 pear, diced into small pieces

1 flax egg (1 T ground flax + 3 T water)

1/3 C agave

1/2 C vegan butter, softened (such as Earth Balance)

Method

1. Preheat oven to 375 F.

2. To make the flax egg: combine 1 T ground flax + 3 T water in a small bowl, stir together and let sit in the refrigerator for 10-15 minutes.

3. Add the vegan butter, flax egg, and agave into a large bowl and mix with an electronic hand mixer until well combined. 

4. In another bowl combine the flour, baking powder, baking soda and cinnamon. Add the dry ingredients into the wet ingredients and mix well. Gently stir in the diced pear and raisins.

5. Use a cookie scoop or a spoon to drop the dough onto a greased cookie sheet and bake for 10-12 minutes.

Let cool and enjoy!

Yield: 2 dozen cookies

Source: Melissa from VeganFling