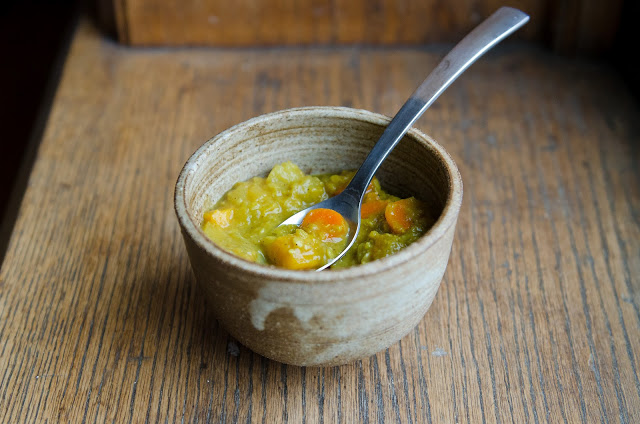 Hello! And welcome to week three of Vegan Tuesdays! I am thrilled that you've stopped by. I have an extremely yummy fall stew to share with you today. 
When I was younger, my mom made a lot of stews during the fall. Her stews were hearty, filling and warm – perfect after a long day of school. I used to really look forward to fall, because mom also began baking again. She would often take the summers off from baking, but then would make up for lost time in the fall. Cinnamon buns, apple pies, fresh baked bread, cookies…Mmm! Mom had a goal of making a new dish every week for Sunday Supper. And we were more than pleased to be her guinea pigs! Frankly, I'm still more than pleased to be her guinea pig! I still look forward to Sunday Supper every week. It's my favourite!
When I began thinking of debuting my Vegan Tuesdays feature in the fall, I immediately thought that I needed to include a delicious, hearty stew in honour of my mom's annual tradition. And this recipe fit the bill perfectly. I adore butternut squash (I'm sure you've noticed). And lentils seemed like the perfect addition to add some heartiness (and fibre) to the dish. The curry adds a really nice spice and warmth to the stew – where the apple adds a hint of sweetness. I loved the texture of the stew as well. All of the components kind of meld together in a stick-to-your-ribs kind of way. I can honestly say that this recipe is in my top 5 of recipes I've tried in 2012. That's a pretty good endorsement! 
I hope to be back on Thursday with another new post. We'll see how the week goes. I've fallen ill with the flu for the second time this month and am NOT a happy camper. *hah* Hopefully it passes quickly, so I can get into the kitchen ASAP. I have a huge list of recipes I want to try over the coming weeks leading up to Canadian Thanksgiving :)
Wishing you all a wonderful week! xo
Ingredients
2 tablespoons of olive oil

1 onion, diced

1 carrot, peeled and diced

3 cloves of garlic, minced

1 teaspoon of fresh grated ginger (or 1/2 teaspoon of ground ginger)

1 and 1/2 teaspoons of sea salt

1 tablespoon of good quality curry powder

1/2 cup of dried red lentils; rinsed and drained

2 and 1/2 cups of vegetable broth

3 cups of peeled butternut squash, diced into 1/2 inch cubes

1 large apple, peeled and diced

5 ounces of baby spinach, washed (optional)
Method
1. In a large pot, heat the oil oven medium-high heat. Sauté the onions and carrots until almost soft. Add the garlic, ginger, curry powder and salt. Allow the spices to cook a minute or two until nice and fragrant.
2. Add the vegetable broth to the pot and stir in the dried lentils. Bring to a boil, cover and simmer for 10 minutes. Add the cubed butternut squash and diced apple. Cover again and simmer stew for another 25 minutes, or until the vegetables and lentils are nice and tender. Note: Stew should be nice and thick at this point.
3. Uncover the stew and stir in the spinach until wilted. Add salt to taste and serve.
Yield: serves 6
Source: Chloe's Kitchen by Chloe Coscarelli