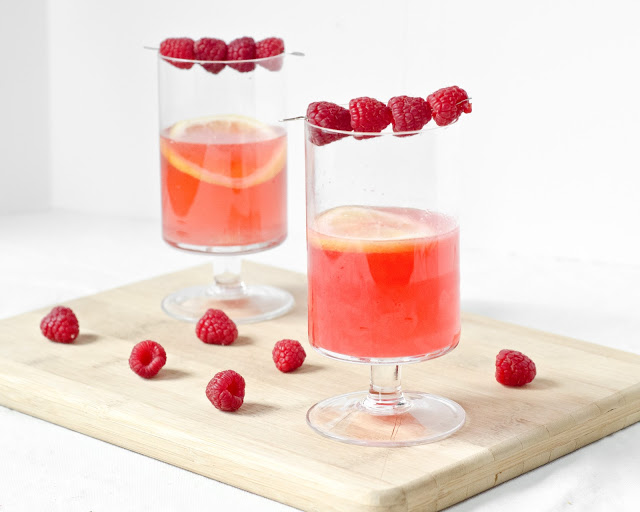 Hello and happy Friday everyone! And happy almost Canada Day to my fellow Canadians! What are your plans for the long weekend? I have a pretty busy long weekend planned. I am shooting a wedding tomorrow, attending a BBQ and then going to my friend's bachelor party. Sunday, I am heading to a friend's bachelorette party and then to celebrate Canada Day at The Forks. Monday, I am going to spend the day sunning on the deck and catching up on my ever-growing summer reading list. Next up, The Guernsey Literary and Potato Peel Pie Society by Mary Anne Shaffer and Annie Barrows.
What books do you have planned for your summer reading?
On Monday, I also plan on having one or two of these delicious raspberry gin cocktails while lounging outside. I'm not one to drink much, but I when I do, I normally like something with a little gin. I know gin is not for everyone, but I love the flavour. Especially when mixed into a fruity cocktail such as this one! The chamomile syrup idea came from a recent Tasting Table newsletter. I love chamomile tea and was curious as to how a chamomile syrup would taste in a cocktail. The newsletter recommended pairing the syrup with gin – and I believe the recommendation was excellent. A really nice flavour profile between the tea, the gin, fresh lemon and sweet raspberries. I found the cocktail a little tart, so I added a little more syrup than the recipe called for. 
Wishing all of my American friends a happy upcoming 4th of July! What are your plans to celebrate? 
And wishing all my teacher friends a happy summer off! :)
Chamomile Syrup Ingredients
1 cup of boiling water

1/4 loose leaf chamomile tea

3/4 cup of granulated sugar
Cocktail Ingredients
8 large ripe raspberries

1/2 ounce of chamomile syrup

1/2 ounce of fresh lemon juice

1 and 1/2 ounce of gin

ice cubes

club soda or sparkling water
1. Chamomile Syrup: In a small bowl, combine the boiling water and the chamomile tea. Steep the tea for 5 minutes then pour the mixture through a fine-mesh sieve set over a small saucepan. Discard the tea solids. Add the sugar to the pan and heat over medium heat, stirring, until the sugar dissolves (about 2 minutes). Turn the heat off and allow the syrup to cool. Transfer syrup to an air tight container and store in the fridge. Note: Syrup can be refrigerated up to a month. 
Yield: 1 and 1/2 cups of chamomile syrup
2. Cocktail: In a cocktail shaker, add 6 raspberries and 1/2 ounce of chilled chamomile syrup. Muddle thoroughly. Add the lemon juice and gin. Fill the shaker with ice. Cover and shake vigorously. Strain through a fine-mesh strainer into an ice-filled glass with a wedge of lemon. Top the glass with club soda or sparkling water. Garnish with raspberries.
Yield: 1 and 1/2 cups of raspberry gin cocktail with chamomile syrup
Source: Porch Swing Sipper originally adapted by Erin Hayes (from The Tasting Table Newsletter)