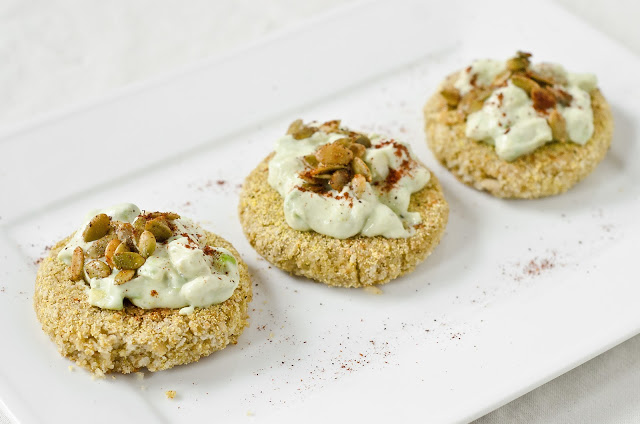 One of my favourite snacks is sliced avocado with a squeeze of lime juice and a sprinkle of salt. Its such a simple, flavourful snack. And healthy too! The list of health benefits of avocados seems to grow daily. Avocados are high fibre, high in protein, can lower cholesterol, and improve the condition of your skin + hair. And they are delicious and creamy! My friend Kristen calls avocados "nature's mayonnaise". *hah* Love that. 
 Avocado + lime can make for a great garnish as well. This past weekend, it rained + rained + rained. Saturday afternoon, I found myself without plans – as so many of the plans I had made were for gardening and spending time at the park. I suddenly had time to play around in the kitchen. So, on Saturday, I whipped up these Mexican White Bean Cakes for lunch and topped them with some of my favourite ingredients – avocados, lime, cilantro and a touch of sour cream. They were delicious! You could easily make these for a healthy, flavourful lunch as I did. Or you could serve a smaller version of them as an appetizer at a party. I think these cakes could even be used as veggie burger patties topped with some slices of avocado + tomato.
Now, I know cilantro is something you either love….or truly despise. So, I've written up the recipe with the cilantro as an optional ingredient. I personally love cilantro, but Jesse HATES it. I've never met more passionate people as those who hate cilantro! *hah* If you choose not to use cilantro for these white bean cakes, please feel free to add some flat-leaf parsley or some mexican oregano.
Hope you all had a great weekend. :)
Ingredients
1 large clove of garlic

1 jalapeño pepper; seeded and roughly chopped

1/4 cup of fresh roughly chopped cilantro (optional)

2 greens onions, washed + roughly chopped

1- 19 ounce (540ml) can of white kidney beans; drained + rinsed

3/4 cup of fresh whole wheat bread crumbs

1/4 teaspoon of salt

1/4 teaspoon of pepper

1/2 teaspoon of ground cumin

1/2 teaspoon of chili powder

1 egg (or 1 flax egg)

1/4 cup of cornmeal

1 tablespoon of canola or extra-virgin olive oil
1/2 cup of low-fat sour cream (or dairy free sour cream)

1 avocado, peeled and diced

juice of 1 small lime (about 1 teaspoon)

pinch of salt

2 tablespoons of fresh chopped cilantro (optional)

roasted pepitas or chile spiced pumpkin seeds for garnish
Method
1. In a food processor, pulse together the garlic, chopped green onion, jalapeño and cilantro. Pulse until all is finely chopped.
2. In a small bowl, add the salt, pepper, chili powder and cumin to the fresh whole wheat bread crumbs.
3. Add beans, seasoned breadcrumbs and egg (or flax egg) to the food processor. Pulse until combined.
4. Form into eight 2-inch round patties and gently dredge in cornmeal. Place patties on a parchment paper-lined cookie sheet and refrigerate for 15 minutes.
5. In a large nonstick skillet, heat tablespoon of oil over medium heat. Cook patties for about 4 minutes per side, or until golden brown + heated through.
6.

For the Avocado Cream Topping

: combine the diced avocado and sour cream in a bowl. Sprinkle with salt and top with a generous squeeze of lime juice. Mix to combine. Place a dollop of the avocado cream on top of each bean cake. Garnish with roasted pumpkin seeds.
Source: loosely adapted from Canadian living Magazine – July 2012