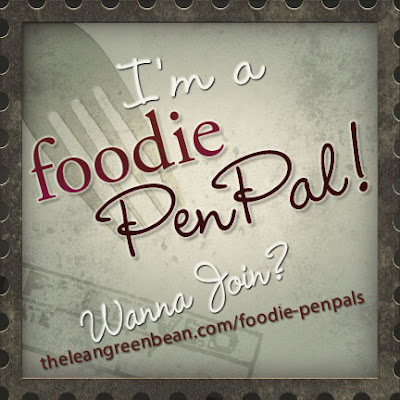 After reading about Foodie Penpals on my friend Destini's blog, The Healthy Wife, I was intrigued! As a kid, I had a number of penpals. When I was about 12, I had 32 penpals actually! *hah* (I'm such a nerd…) I loved collecting pretty stationary, writing to my penpals and constantly getting letters in the mail. It was fun to get to know people from around the globe. No wonder I gravitated toward blogging, hey!? It appears that at 12, I was a blogger in training. *hehe* 
The Foodie Penpal Exchange is sponsored by a fantastic blogger named 
Lindsay at The Lean Green Bean. It's such a neat project. She links up people in Canada, the US and the UK with one another. Once you are linked up with a penpal, you collect food-related items (ideally local products) and put together a package of goodies for your partner. You send the parcel along with a letter explaining what each item is and why it was chosen. Everyone is assigned a different person to send goodies to. So, in the end, I met two wonderful ladies – Kristy at 
Gastronomical Sovereignty and Celyna at Love.Peace.Happiness.Cooking. Kristy sent me a parcel and I put one together for Celyna. Both Kristy and Celyna are food bloggers and have fantastic blogs! Be sure to check them out. They both focus on healthy, natural and unprocessed food choices + recipes. The three of us had a ton in common. I look forward to keeping in touch with both of them.
So, since it is "reveal" day, I better get on to talking about what Kristy sent me! Let me tell you, I was elated when the package was delivered! I felt like I was 12 years old again. It's so much fun getting mail :) Especially when it contains multiple delicious goodie and food stuffs! Kristy was an absolute dear and put a lot of thought + effort into what to send me. She spent time reading my blog and made a list of items I like. She then based all of her selections on some of my favourite items. Here is a list of all the yummy things Kristy sent: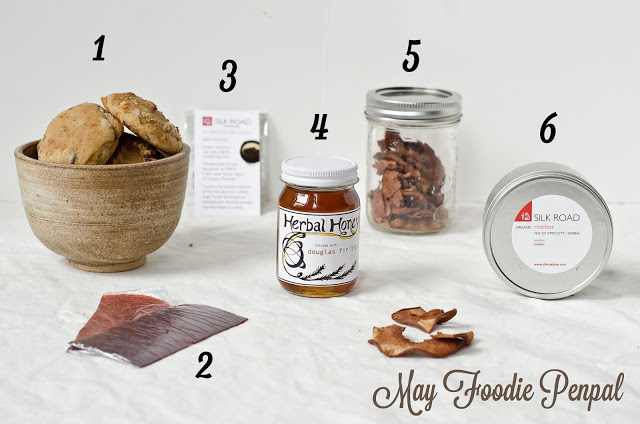 2. Homemade Fruit Leather from Moss Street Market
3. Green Pu-erh Tuocha from Silk Road
4. Herbal Honey infused with Victoria Douglas Fir tips
6. Rooibos Tea from Silk Road in Victoria, BC
7. A copy of EAT Magazine – a culinary magazine from Victoria
The chocolate chip cookies were delicious! Yum! They were so soft + cake-like. I love that she used the recipe her grandmother used to use. It added a nice personal touch to the gift. The cookies also paired up nicely with a cup of tea. Mmm! Speaking of tea, Kristy saw that I adore rooibos teas and was sweet enough to send me a 40 cup tin of Rooibos from a local tea shop called Silk Road. It's a beautiful, flavourful tea. Looking forward to making an iced rooibos tea once the weather finally warms up here!
Jesse and I both really enjoyed the homemade apple chips covered in cinnamon. When I opened up the jar of apple chips, our entire condo filled with the smell of cinnamon baked apples. I'm going to have to try my hand at making homemade apple chips too. Or, perhaps I could just get Kristy to send me some on a regular basis. *hehe* Kristy also sent some products from her local farmer's market. She sent an aromatic organic honey made with douglas fir tips. Fancy! I'm looking forward to making some granola with it. She also sent some homemade fruit leather from Moss Street Market. Everything she chose to send me was well enjoyed and very much appreciated. 
A huge thank you to Kristy! xoxo
If you'd like to see what I sent my foodie penpal, please check out Celyna's website! It's great! Awesome recipes and cute stories :)
So, how can you participate in the next Foodie Penpal Exchange? Simple! Just check out The Lean Green Bean's page + fill out the form by June 4th. You'll receive your penpal on June 5th. Then, you need to collect food stuffs totalling $15.00 and send it to your partner by June 15th. Reveal day will be June 30th.
I highly recommend giving one of the Foodie Penpal exchanges a shot. You are guaranteed to meet some inspiring, new people, learn about new blogs and try out some new food products.