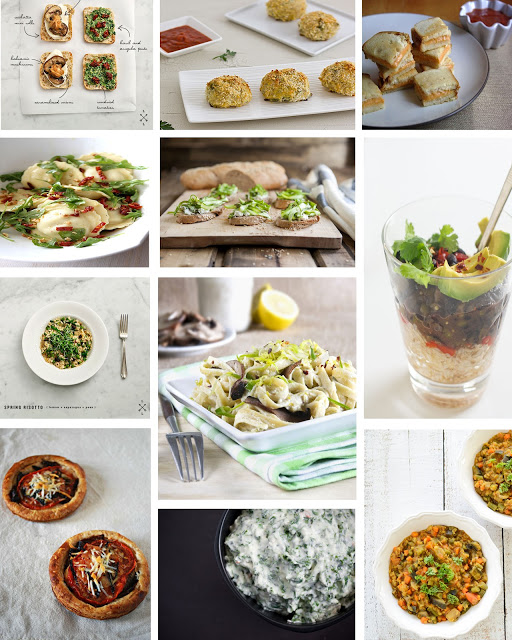 Hello! So, apparently it is Saturday and I missed the boat on posting my Friday Links-to-Love…on Friday. *heh* I ended up being quite busy yesterday and was unable to get a post together. Last night, my good friend Kirby came into town to celebrate her belated birthday. We met up with a bunch of friends for dinner and then drinks. It was nice to catch up with lots of different friends I've not seen in a while. 
Today, Jesse and I checked out a bike auction in hopes of finally getting bikes for the summer. No such luck! We'll have to keep trying! After the auction, we went for brunch at Prairie Ink Café. The café is in my favourite book store – McNally Robinson. We both had french toast with caramelized bananas. Yum! And then I bought the new Vegetarian Times Edition – Recipes From Around the Globe. I'm excited to try a number of recipes from it! After brunch, we went for a nice, long walk downtown. It's finally beautiful, warm and sunny here – and who knows if it will stick around. So, we took advantage of the nice weather and walked. It was so good to be out & about. Canadian winters can be long!
 We are off to dinner tonight to celebrate mother's day a bit early with Jesse's family. We are heading to a restaurant I've not yet been to. I'm always excited to try new places! 
Hope you are having a great weekend so far!
Oh…and before I forget…
Please also check out my friend Melissa at West Coast Nest's post on fuelling up properly before a run. I found the post extremely helpful. Make sure to check out Melissa's posts about preparing for an upcoming marathon. She's rocking it! Wish I could be as motivated and energetic! One day…one day :)
And please make sure to vote for my friend Allison from Live It. Love It. Blog It. to win the Richmond 365 Days of Dining in Richmond, BC. Help make her dreams reality :) Allison is a fantastic, sweet and inspiring person and I would love to see her win this. If you have the time, please take the opportunity to vote. And be sure to spread the word! Thanks :)