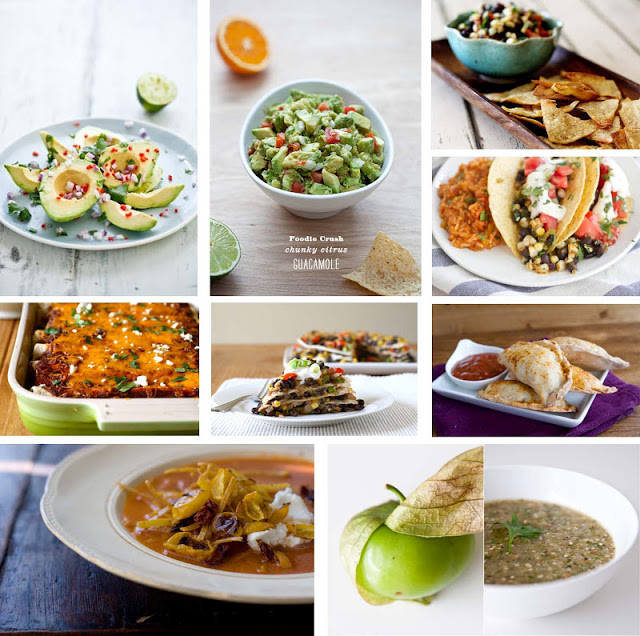 Hello, and happy Friday! Hope you all had a fantastic week :) My week was really nice – pretty relaxed for the most part. I finished up the last of my overtime shifts at work, spent time with Jesse, went for thai food with my friend Reyna, and met my friend Emily for lunch. The highlight of my week was hanging out with my dad last night. He and I drove 40 minutes out of the city to Half Moon for veggie burgers and fries. The weather was amazing yesterday – way above average temperatures again and not a cloud in the sky. We sat, had our dinner, chatted about life and then blared some Black Keys on the ride home. A fantastic evening. I love my dad to bits.
  So, I am pretty excited, as I start a week long vacation today! And in honour of this vacation, my Link Love inspiration this week has to do with my love of latin food. Why, do you ask? It's because I am heading to the Mayan Riviera on Sunday! I'm heading there for a week and will be photographing a friend's wedding. Looking so forward to it! I've not been on a relaxing vacation in an extremely long time and I'm looking forward to lounging pool side & eating my weight in guacamole. *hah* I've never been to Mexico before, so I am not entirely sure what to expect. But I've seen pictures of the beaches along the Mayan Riviera and they look stunning. I cannot wait to dip my toes into the ocean! I'm hoping to check out various sites while there including Playa del Carmen and Tulum. I will try my best to blog whilst there – as long as the internet connection is decent. And hopefully I'll have some photos to post over the week too.
Speaking of travelling, two of my blog friends are off in Singapore this week enjoying what appears to be incredible food! Check out Natalie's post at Once Upon a Cutting Board to check out some of the tasty dishes she's been sampling. Also, check out Vanilla & Spice to check out what Genevieve brought to snack on while in Singapore. Looks so yummy!
I was so excited to see this post on Oh Happy Day Visiting Spain, Portugal and Morocco is a goal of mine – one that I hope comes to fruition much sooner than later! How beautiful are the photos!?
With spring arriving here in full force the past two weeks, I sometimes forget that it's fall elsewhere in the world. This is such a sweet post by the delightful House of Humble.
And finally, these Sweet Potato Quinoa Rissoles by Sunday Morning Banana Pancakes look stupid amazing. *hehe* Definitely making these when I get home from my trip!
What are your plans for this upcoming weekend?